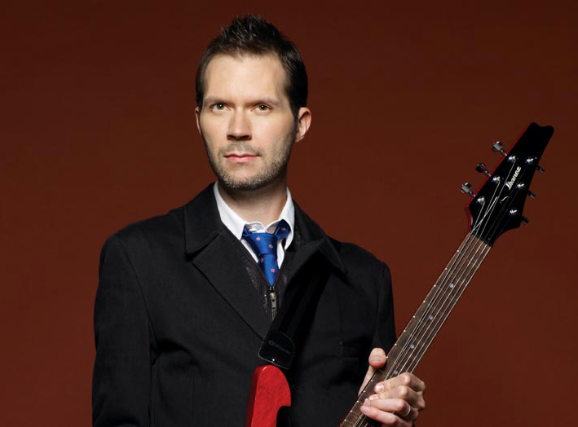 Paul Gilbert
Tuesday, Sep 25, 2018 8:30 PM EDT (7:30 PM Doors)
Iridium, New York, NY

Additional Information
Paul Gilbert's album I CAN DESTROY is racking up rave reviews. Guitar World proclaimed, "Gilbert's dazzling guitar work is at the center of a group of songs that vary stylistically from the Iron Maiden/Judas Priest vibe of the title track, to the Thin Lizzy/Boston-like 'Knocking on a Locked Door' and 'One Woman Too Many,' to the Steely Dan-flavored strains of 'I Will Be Remembered.'" While in a separate story, GuitarWorld.com declared, "...Gilbert cuts a wide swath of styles and textures. There's the full-frontal assault of 'Everybody Use Your Goddamn Turn Signal,' the jazz-blues lament of 'One Woman Too Many' (which also features Gilbert's patented Makita drill-bit riffery) and the gut/heart punch of 'I Am Not the One (Who Wants to Be with You).'"
"My guitar playing was born from playing in my teenage heavy rock bands," Gilbert explains. "After playing for 40 years, I've been able to evolve the way that I see the fretboard, and how I hear the guitar in my head. This opens up my soloing, and also my writing. I couldn't have written this music when I was a kid. I couldn't have written these lyrics either. I needed time to live…to experience joy, and anger, and love, and frustration at people who don't use their turn signals."
It's no accident that I CAN DESTROY cuts a wide swath of styles and textures, from the full-frontal assault of "Everybody Use Your Goddamn Turn Signal" to the jazz-blues lament of "One Woman Too Many" (which also features Gilbert's patented four-pick Makita drill-bit riffery) to the radio-friendly balladeering of "Love We Had" to the smoking-hot gut/heart punch of "I Am Not the One (Who Wants To Be With You)," the latter track's title a playful reference to the ubiquitous #1 hit Gilbert enjoyed as part of his gig as lead guitarist for the still-going-strong Mr. Big.
Gilbert knew that I CAN DESTROY producer Kevin Shirley (Led Zeppelin, Iron Maiden, Rush, Joe Bonamassa), whom he previously collaborated with on Mr. Big's 2011 release WHAT IF, would push him to do his best from the get-go. "One thing I knew about working with Kevin as a solo artist is that there weren't going to be that many overdubs on the record — not that many takes, and not many fixes," he reports. "As a musician, that puts the fear into you. It's a good fear, and it made me want to prepare in a pretty healthy way."
With Shirley onboard to get behind the board, Gilbert next had to cull together some top-drawer musicians to bring into the studio. "On drums, we've got Thomas Lang, who's somewhat of a drumming legend, and on bass is Kevin Chown," details Gilbert. "He was the only guy I'd never worked with before, and he was great. He played all the right stuff. He's played with everybody from Chuck Berry and Little Richard to Sebastian Bach."


Processing your request, please wait....