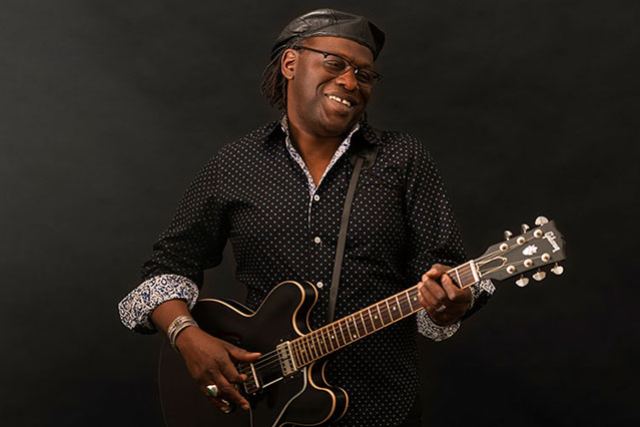 Joe Louis Walker
Saturday, Apr 07, 2018 8:30 PM EDT (7:30 PM Doors)
Iridium, New York, NY

Additional Information
Joe Louis Walker, a Blues Hall of Fame inductee and four-time Blues Music Award winner celebrates a career that exceeds a half a century. His new album Everybody Wants A Piece cements his legacy as a prolific torchbearer for the blues. Looking back on his rich history, Walker shares, "I'd like to be known for the credibility of a lifetime of being true to my music and the blues. Sometimes I feel I've learned more from my failures, than from my success . But that's made me stronger and more adventurous. And helped me create my own style . I'd like to think that when someone puts on one of my records they would know from the first notes, 'That's Joe Louis Walker.'"
Always an artist deeply expressive lyrically, Walker continues to write and sing about themes that are universal. On "Black & Blue" he talks about a love affair that's falling apart, but there's an effort to keep it going. He offers, "The lyric 'Let's find a quiet place, A place out of town…We Need to talk this thru, Be honest & True' says it all in trying to save the relationship." He cites the title track as a composition that might not have a deep meaning, but in presenting the thought, "Everybody wants a piece of your love," offers a double entendre that speaks for itself. With a deep history and background in gospel, Walker looks towards Wade in the Water" as an instant all time favorite. He reveals, "The inspirational lyric 'The water is deep, the water is cold, it chills my body, BUT NOT MY SOUL" is expressing my belief that the spiritual will carry you through when the physical can't."
This time out Joe has brought j2on Paul Nelson to produce his album which was recorded at his famed Chop Shop studio on the east coast. Nelson is a Grammy winning guitarist/producer who was rock/blues legend Johnny Winter's guitarist, and who also appears as guest guitarist on two tracks on Everybody Wants A Piece.
A true powerhouse guitar virtuoso, unique singer and prolific songwriter, he has toured extensively throughout his career, performed at the world's most renowned music festivals, and earned a legion of dedicated fans. Walker's 1986 debut album Cold Is the Night on HighTone announced his arrival in stunning fashion, and his subsequent output has only served to further establish Walker as one of the leading bluesmen on the scene.


Processing your request, please wait....