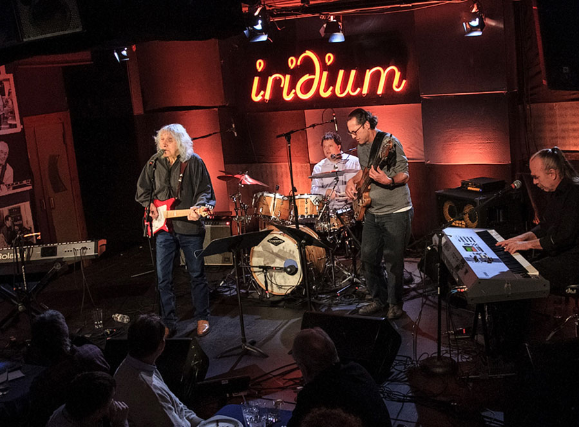 Albert Lee
Tuesday, Jun 12, 2018 8:30 PM EDT (7:30 PM Doors)
Iridium, New York, NY

Additional Information
Albert Lee is "the guitar player's guitar player," universally recognized in music circles as one of the worlds finest, as well as one of the top rockabilly guitarists in history. In England he's been a household name, and in Nashville and Los Angeles he's been one of the most in-demand session guitarists there is; but outside of professional music circles in America, he's one of those vaguely recognizable names. Albert Lee's song Country Boy helped to redefine country guitar for a whole generation of players, and was later to become a huge hit for multi-instrumentalist Ricky Skaggs. Humble and self-effacing, he's played behind Muddy Waters, BB King, Jerry Lee Lewis, the Everly Brothers, Emmylou Harris, Joe Cocker, and Eric Clapton, who is on record as saying that Albert Lee is "the greatest guitarist in the world."
An English guitarist known for his fingerstyle and hybrid picking technique. Lee has worked, both in the studio and on tour, with many famous musicians from a wide range of genres. He has also maintained a solo career and is a noted composer and musical director.
Lee first experienced commercial success as the lead guitarist with Chris Farlowe and The Thunderbirds. Lee says that he enjoyed playing the Stax-type material, but he really wanted to play country music. Consequently he left Farlowe and the Thunderbirds in 1968.
Lee left for Los Angeles in 1974 and, through his friend bassist Rick Grech (of Blind Faith), joined The Crickets who also included Sonny Curtis and Jerry Allison. The band cut three albums including A Long Way from Lubbock. Lee also received many offers of session work. In 1976, he was asked to join Emmylou Harris's Hot Band, replacing one of his heroes James Burton, who was returning to perform with Elvis Presley. The Hot Band featured other musicians including Ricky Skaggs and Rodney Crowell. Starting in 1978, Lee worked for five years with Eric Clapton, playing and singing for a live concert recording at the Budokan in Japan.
Lee has received many awards as a guitarist, winning five consecutive times Guitar Player magazine's "Best Country Guitarist". Lee is known within the music industry for his speed of playing and his technical virtuosity and yet by the same token, one of the most melodic, playing slower passages approximating the sound of the pedal steel guitar with his Music Man and Telecaster guitars which are equipped with B-Benders.
What Other People Have Been Saying…
"Albert is in every sense of the word, a genuine guitar wizard" –Earl Scruggs
"A brilliant guitar player. His sound is unmistakable—often emulated, never equaled. When Saint Peter asks me to chronicle my time down here on earth, I'll be able to say (with pride if that's allowed) that for a while I played rhythm guitar in a band with Albert Lee." – EmmyLou Harris


Processing your request, please wait....