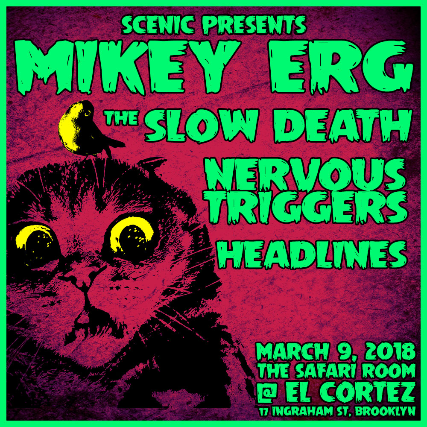 Purchase Tickets
We're sorry, there are no tickets currently available through TicketWeb.
Additional Information
Mikey Erg is a punk rock drummer, guitarist, and vocalist, from New Jersey. He has played in numerous bands, most famously The Ergs!, but also Star Fucking Hipsters, The Dopamines, The Unlovables, Dirtbike Annie, Parasites, and The LLC (the house band on The Chris Gethard Show). In 2016, he released his first solo album, Tentative Decisions.
After several unsuccessful attempts at mining alpacas for wool and chickening out of bank robberies a young Jesse Swan Thorson thought he could make himself rich at playing music. He had no idea how wrong he was. Boasting drunkenly at a divebar in Fargo, ND he convinced some local half-wits to form a band and Pretty Boy Thorson was born. Stringing together music ripped off from Merle Haggard songs and misunderstood bible quotes, Pretty Boy Thorson managed to write and record several records. Quickly tiring of Mr. Thorson's deranged antics members of the band fled to opposite coasts of the United States. Realizing he was too lazy to continue on his own, Jesse along with life partner David Strait recruited punk legend Jonny C from the critically acclaimed Rest of Us (Tampa, FL) and a guy named Mike from some bullshit band called The Ergs, they changed their name to The Slow Death to stop running from the obvious. They are now considering touring with top bands and maybe getting a haircut.


Processing your request, please wait....