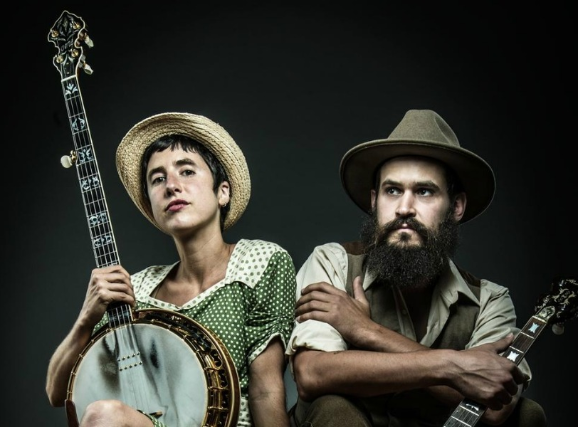 Blue Note Napa Presents
The Lowest Pair
Wednesday, Jan 31, 2018 7:30 PM PST (5:30 PM Doors)
Blue Note Napa, Napa, CA
8 years and over
Purchase Tickets
Please call 707.880.2300 (3:30-9:30 pm) to reach venue Box Office to check availability as tickets may be available. Club Restaurant opens at 5 pm. Doors at 5 for 7 pm set, Doors at 9 for 9:30 set.
Additional Information
The Lowest Pair had been planning to release a new record in the spring of 2016. So in early 2015 Palmer convinced Kendl to spend a winter in Minnesota, with the temptation of working with local greats Dave Simonett and Erik Koskinen on the new material. The duo then set off on what would be a successful season of touring their second, critically acclaimed album, The Sacred Heart Sessions (Spin: "solemn and humble;" The Bluegrass Situation: "deeply felt"), and a new-old-time record, I Reckon I'm Fixin' On Kickin' Round To Pick A Little. In the fall, returning to the Midwest to finish up the recordings they had begun a few months prior, Kendl and Palmer found themselves with a whole new batch of songs ready to lay down. After much deliberation, they ambitiously decided the two collections should be released together in 2016.
In a way, two records, the playful and the hush, the dark and the rooted, the pillow and the nightmare, the pin drop and the starry night; the juxtaposition of the ups and downs that are experiences in a day, in a year, in a minute, all this has demanded from the band more than just "a new record." Fern Girl and Ice Man and Uncertain As It Is Uneven, mark the arrival of America's next great musical duo, and it's over the course of these two albums that that boast becomes clearly rooted in truth.
The Lowest Pair might be one of the best under-the-radar Americana duos today ~Hillary Saunders, Paste Magazine
Ages 8+
BLUE NOTE NAPA
Blue Note Napa is located on the first floor of the Historic Napa Valley Opera House at First & Main. We are an intimate 142-seat jazz club and restaurant, where you can enjoy performances of world renowned and local Bay Area artists alike. We offer a full menu with market-driven cuisine, as well as an elegant wine and cocktail list. Enjoy fantastic main courses, sharing plates, and desserts while you take in a show.
All ticket prices are based on per person. Dinner is served in all sections. Your ticket is your dining reservation. Separate reservations are not needed.
"Sapphire" Booth Seating:
Booth seating for parties of 4, 5- 6 persons: Our premier level of seating! Booths are only available as tables of four, five or six and are not available as singles or pairs. Booths are 1st come, 1st seated. You will be seated when you arrive. (Seating is dark blue color on map)
"Royal Blue" Center Table Seating:
Seating in premier center table areas in front of stage: Pairs are seated across from each other. 1st come, 1st seated in center section (Seating is light blue color on map)
Standard Side Table Seating:
Seating in side table areas left and right of center section: Pairs are seated across from each other. 1st come, 1st seated. (Table seating is yellow on map)
Bar Area Ticket Seating (only patrons 21+ can sit at bar):
Great View!! Bar Chairs are tall with backs and comfy padded seats. Purse hooks too. (Bar area is pink on map).
A portion of each ticket's fees goes to the historic preservation of the Napa Valley Opera House.
Tickets are the same price whether purchased in person, over the phone or online.
Dinner Menu available in all seating areas

Processing your request, please wait....