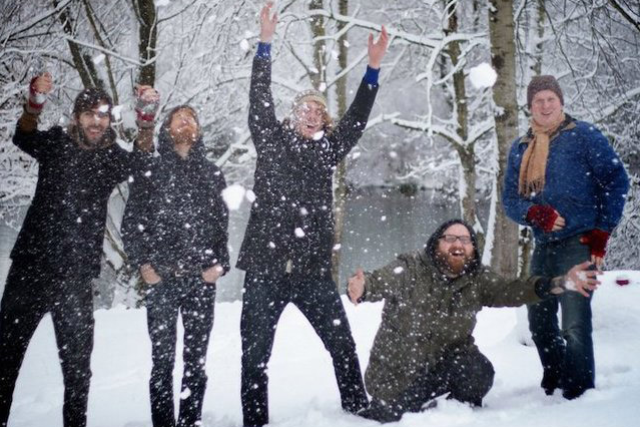 Thunder Road Presents:
The Builders and the Butchers
Three Day Threshold
Thursday, Feb 01, 2018 8:00 PM EST (8:00 PM Doors)
Thunder Road, Somerville, MA
21 years and over
Purchase Tickets
Tickets Available At The Door.
Additional Information
Portland-based folk rock band, The Builders and the Butchers, announce their forthcoming album, The Spark, due out May 19th. The band's fifth LP will be released on Badman Recordings Co, which will be their third release with the label.
Their last album was hailed by Consequence of Sound, who said, "The Builders and the Butchers make records the way the bards used to pass on stories. They're poetic and captivating, and do to songwriting what Clint Eastwood does to movies," and this new record follows the same, narrative-driven path.
With glowing album and show reviews coming from Pitchfork and The Wall Street Journal, among others, their brand of folk-rock is best served live. Audiences can look forward to lively performances, where fourth wall is broken and the audience is able to participate in call and response sing-a-longs. Sometimes the band will hand out instruments for fans to play, and they'll even get down off stage to perform right on the floor.
The Builders and The Butchers formed in 2005. Ryan Sollee fronts the band, sings and plays guitar, joined by Willy Kunkle (bass, guitar, vocals, percussion), Justin Baeir (drums, backup vocals, percussion) and Harvey Tumbleson (mandolin, banjo, guitar, vocals, percussion). The Portland-based band gained a strong following after years of playing anywhere and everywhere across the city. They quickly grew to become one of the most exciting live bands in Portland and throughout the Pacific Northwest.
The band toured throughout the US and Europe from 2007-2012, playing music festivals, such as Sasquatch and Lollapalooza, and acting as support for Portugal. The Man, Heartless Bastards, Amanda Palmer and Murder By Death. To support their forthcoming release, The Spark, the band will be playing their first US and European tour in multiple years.
This new album features a wider array of sounds and shorter, hard hitting songs, while remaining a Builders' record at heart. The process of creating The Spark was the longest of any Builders' record to date. They spent the last five years writing the music and a year mixing. With several band members living out of state (Justin in Colorado, Willy in Malta, Harvey in Washington and Ryan and Ray in Portland), many parts were recorded remotely. Drums and much of the electric guitar were recorded at Revolver Studios and the rest was laid down piece-by-piece and mixed by Edgar McCrae at his home studio. Influences for the record range from Tom Waits to The White Stripes.
Dear Music Lovers,
We at Thunder Road pride ourselves on being a safe space. If at any time or for any reason someone at the show is making you feel unsafe or uncomfortable please let a staff member know immediately. Thanks and have a great time!
ENJOY 10% OFF FOOD ORDERS 5PM-8PM WITH PURCHASE OF ADVANCE TICKETS
FEE FREE BOX OFFICE TICKETS AVAILABLE AT THE CLUB DAILY AFTER 5PM.
Start Times May Vary. Headliners always go on later than start times. By purchasing advance tickets your Email will be added to Thunder Road's email list. We hope you'll stay on it, but if not, you can unsubscribe in a single click.


Processing your request, please wait....