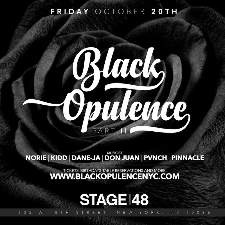 Additional Information
It's the 2nd time around and we're back at it with one of the Most Anticipated Fall Events in NYC! If you missed the first one you know not to miss this!
"It's a celebration of black excellence, black tie, black Maybachs - Black EXCELLENCE, OPULENCE, DECADENCE"
BLACK OPULENCE part II
Tickets Available www.BlackOpulenceNYC.com
One of the Biggest Birthday Celebrations in NYC as we celebrate Life for some of the best to ever do events in NYC @A_N_D_O_10, @____FREDSTAR , @GQ_BLAZE, @DARREN_LAING, @MRDANEJA, and @CASH_CODY
FRIDAY OCTOBER 20, 2017
Music By NYC's Best
Power 105.1's DJ NORIE alongside DJ KIDD / DJ PVNCH / DJ DON JUAN / DJ DANEJA / DJ PINNACLE
at STAGE 48 | 605 W 48 Street. New York, NY 10036
This is Celebration of Black Opulence so Dress Accordingly
For Bottle/Birthday Packages, and More Info Text 845.494.4697


Processing your request, please wait....