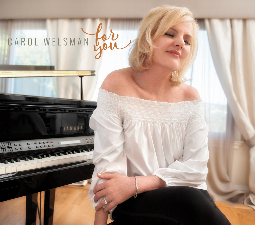 Catalina Bar & Grill
Carol WELSMAN'S "FOR YOU" CD Release Party & Fundraiser For Husband Pat HARRIS' 2018 CALIFORNIA Democratic U. S. Senate Run
with: Special Guests Louie Cruz BELTRAN & Denise DONATELLI
Monday, Sep 25, 2017 8:30 PM PDT
Catalina Bar & Grill, Hollywood, CA

Purchase Tickets
We're sorry, there are no tickets currently available through TicketWeb.
Additional Information
Like many other successful musical artists, singer/pianist Carol Welsman was surrounded by music from an early age.
Music was "all over the family," she recalls, reminiscing about her childhood in Toronto, Canada. Then, with a laugh, Carol adds, "The family story I always heard was that the members of the family who came over from Italy were all musicians."
In fact, her family roots were also English and Irish, and the music that was "all over the family" embraced them as well.
Her mother was a piano teacher, an uncle was a violinist, and her father, Carol recalls, "played clarinet and saxophone quite well." But the family member who had the highest visibility, many decades prior to Carol's musical successes, was her grandfather on her father's side. "His name was Frank S. Welsman, and he was the founder and first conductor of the Toronto Symphony Orchestra."
Carol, herself, was taking music lessons at an early age, and played contra bass and violin in high school. Her fascination with jazz was triggered by a friend who had, she says, "an incredible record collection."
Starting at the age of twelve, she was also taken by her father to big band concerts. She happily remembers hearing Woody Herman and Count Basie, as well as Peggy Lee. "But I missed seeing Duke Ellington; he was my Dad's favorite."
"I was Dad's only daughter," she adds, "and I liked getting special treatment. I wanted to go with him no matter what he was doing. If he wanted to go wood chopping, I went wood chopping." In her teens, she found herself drawn to vocal groups such as the Four Freshmen, The Double Six of Paris and the Hi-Los. At sixteen, she organized and arranged for her own vocal ensemble. Despite the ever present musical environment surrounding her young years, Carol "never felt any pressure, unlike other young musicians I knew. I was surrounded by music in a loving way and I felt nothing but encouragement."
The supportive environment no doubt produced the positive results Carol achieved when she went to Boston to study at the Berklee College of Music, where she finished all the music studies. She also became friends with Herve Legrand, the son of French composer/pianist Michel Legrand. The friendship opened the way to far-reaching musical vistas for Carol. With Legrand's aid, she was accepted into a highly regarded Paris music school, CIM. She also received a grant that allowed her to go to Paris and study voice with Michel Legrand's sister, the soprano Christiane Legrand.
Carol's string of good luck paused at this point. When she unexpectedly began to experience throat discomfort, she visited a doctor and was told that she had three polyps on her vocal cords. Surgery was recommended, but Carol spoke to an opera singer friend who advised her to "get another diagnosis and avoid the knife." And she did.

There is a limited number of tickets available for purchase here only for a $30 cover +2 drink minimum or dinner.
Doors open at 6:00 pm.


Processing your request, please wait....