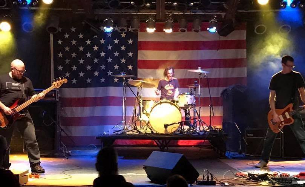 Rented Rooms


/

Last Giant

/

Sewingneedle

/

Hungry Man

Saturday, Oct 14, 2017 9:00 PM CDT (9:00 PM Doors)
Quenchers, Chicago, IL
21 years and over
Purchase Tickets
We're sorry, there are no tickets currently available through TicketWeb.
Additional Information
Rest yourself in a rented room.
On the heels of Last Giant's 2015 debut record Heavy Habitat and two years of steady touring comes Memory Of The World, an inwardly drawn collection of 11 electrifying tracks. The album is infused with a deep and nuanced 70's rock sound with progressive embellishments along the way and Last Giant continues to obliterate the pretty confines of everyday rock in this sophomore release.
Chicago's Sewingneedle is made up of three deeply troubled and unhealthy dudes. Turned loose on the world in 2011, its members (Cream Kickin' Drake, Reuben Eatin' Calvin, and Truly Upset For the Wrong Reasons Danny) were raised by a single father in the suburbs of the Greater Chicagoland area, communicating by only semaphore for years while their father toiled to pay for music lessons, brewery classes, and something called "Geophysics competitions". Dude never once got a thank you. Sewingneedle's first album came out in June of 2015, and pretty quickly they were compared to such great Chicago-based rock bands as Pinebender and .22. They transcend these comparisons, creating a pretty unholy noise that's equal parts melody, pummel, and sophistication. Or 1/3 part each, with a tiny bit more given to PUMMEL. They play as if they've known each other since little times. Which they have, if you remember the above-paragraph about their long-suffering, single father who worked endlessly for these ingrates.
When thinking of a band like "Hungry Man" the word "audacity" comes to mind; from their debut performance at this years PRF Thundersnow, the quartet of Jeff Fox, Eliya Gwetta, Jim Kamp, and Andy Kosinski performed six out of seven originally composed songs, and tacked on a cover for good measure. Now, that sounds like some no frills business, but the songs these men put forth were incredibly muscular, well honed salvos of rock and roll aggression. There was not a single clumsy misstep, unlike every other band that has had a debut performance. These jerks had the audacity to play every single song like we all had the record, like we all knew what was coming and like they had worked on them for years. This is the sound of a full figured band--enough space for everyone to breath and step into the light.


Processing your request, please wait....