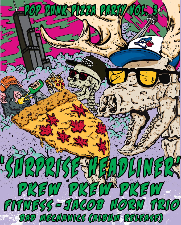 Purchase Tickets
tickets may be available at the door, phone club for info or check www.mpshows.com for more info
Additional Information
Chicago's favorite hot sauce jerks are back at it with POP PUNK PIZZA PARTY VOL. 3! Soothsayer Hot Sauce and MP Shows are proud to bring you more bands, more sauce, more pizza, and (likely) more Chicago handshakes at what will be the party of the weekend on September 16th at Quenchers Saloon. The past two years sell out shows have brought in secret sets from acts such as Direct Hit, Elway, and Bad Cop/Bad Cop with even more in store for lucky number three!
Entry is $15 and includes an all you can eat pizza/hot sauce buffet. Couple that with $5 handshakes at the bar and a popcorn machine, and you're not going to find a better deal Riot Fest weekend!
WHO'S IT GONNA BE THIS YEAR? WILL IT BE THE MOTHMAN PLAYING COVERS OF WAGON WHEEL? WILL THE TAMALE GUY THROW DOWN A MARIACHI SET? ONLY TIME WILL TELL. TRUST US, YOU WON'T WANNA MISS THIS ONE.
Canada's favorite party punks grace us with their presence at what will surely be the rowdiest of shows. Crack some cold ones with the boys, because you better believe that they are getting drunk before they go out drinking. What the night will lack in poutine will be made up for by hearing them play "Let's Order a Pizza" at an actually pizza party. NOTCH.
Up and coming area rippers who just put out the party jamz release of the summer with "Puppet Show" on Don't Panic Records and Distro. If you're not banging your head, your neck might already be broken.
Not a trio, but does have horns. They let Direct Hit's Devon Kay into the band but we're not going to fault them for it.
Featuring members of Galactic Cannibal, The Eradicator, and HEWHOCORRUPTS, Bad Mechanics will tear you a new one at the next PTA meeting, criticize your stamp collection, and steal your LaCroix from the office fridge. This will be the release show for their new album!


Processing your request, please wait....

Pop Punk Pizza Party Vol. 3
/
Super Secret Guest Headliner
/
Pkew Pkew Pkew
/
Fitness
/
Jacob Horn Trio
/
Bad Mechanics