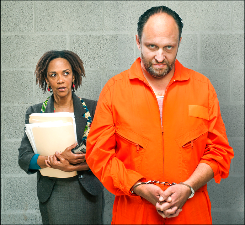 Purchase Tickets
There are no more tickets available through Culture Shock Miami.You may e-mail us at info@cultureshockmiami.com about future availability or contact the venue's box office for regular priced tickets.
Additional Information
NNPN Rolling World Premiere of Building the Wall – the newest play by Pulitzer Prize and Tony Award-winning playwright Robert Schenkkan (The Kentucky Cycle, All the Way, Hacksaw Ridge), directed by City Theatre Artistic Director Margaret Ledford.
Written immediately prior to the recent presidential election, inspired by Candidate Donald Trump and his anti-immigration campaign rhetoric, Building the Wall reveals a scenario of how campaign promises made law might lead to a terrifying, seemingly inconceivable, yet inevitable conclusion.

It's the very near future and the Trump administration carries out its promise to round up and detain millions of immigrants. With martial law declared and increased ICE and Homeland Security arrests, rapid expansions in the private detention system are quickly overwhelmed with detainees awaiting deportation. Rick, a detention center supervisor abandoned by his supervisors as the situation deteriorates into chaos and death, is interviewed by Gloria, a historian curious to understand his side of the story, while he awaits sentencing for carrying out the federal policy that escalated into the unimaginable.

This riveting, harrowing and illuminating drama delivers a powerful warning and puts a human face on the inhuman, revealing how the inconceivable becomes inevitable when personal accountability is denied.
Recommended for ages 16+


Processing your request, please wait....