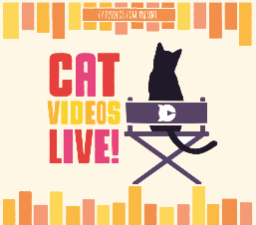 Thalia Hall
CAT VIDEOS LIVE!
Tuesday, Nov 14, 2017 8:00 PM CST (7:00 PM Doors)
Thalia Hall, Chicago, IL

Additional Information
Cat Videos Live! is a feline film, cat comedy event and social gathering for all ages. Cat Videos Live! provides a genuine atmosphere for animal lovers to experience the cat video phenomenon – together.
Cat Videos Live! and CatVideos.com have partnered to bring exclusive content to the big screen. In addition, Cat Videos Live! is a forum for cat video creators to showcase their cats. The event is hosted by New York City based comedienne and entertainer, Carla Rhodes. Mentored by Shari Lewis, creator of children's icon Lambchop, Carla is a multi-faceted talent who has performed with a wide array of artists such as Neil Hamburger, The Eels and Tim Heidecker (of Tim & Eric).
"You love them. You mock them. But one thing you can't do is stop watching them. Yes, we're talking about Internet cat videos. Which either represent the pinnacle of human creative achievement, or a sign that the apocalypse is nigh. Or both." -Los Angeles Times
"The Internet Cat Video Festival made an act of isolation (sitting alone in front of your computer screen) into a celebration of togetherness. Walking towards the parking ramp, I noticed that people who were previously strangers were now interacting with ease. Cars were letting other cars pull ahead of them. Everyone was happy and being kind." -BBC
"Game over. Cats have won the Internet. At least that was the conclusion among the many attendees of the Internet Cat Video Festival on Friday. Decked out with cat ears and painted-on whiskers, they lined up around the block to do ina group what they already do in front of their computers." -Chicago Sun Times
A portion of all Cat Videos Live! ticket sales are donated to local charities, Panthera.org and Friends4Life.org


Processing your request, please wait....