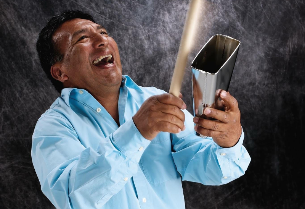 Catalina Bar & Grill
Alex ACUÑA with Ramón Stagnaro (guitar), Aníbal Seminario ( sax), Joe Rotondi (piano), Eddie Resto (bass), Walter Rodríguez (drums and percussion)
Wednesday, Aug 02, 2017 8:30 PM PDT
Catalina Bar & Grill, Hollywood, CA

Purchase Tickets
We're sorry, there are no tickets currently available through TicketWeb.
Additional Information
Born in Pativilca, Peru, 100 miles north of Lima, Alex Acuña was born into a musical family that inspired him and helped shape him as a musician. His father and five brothers were all musicians. Alex taught himself how to play the drums from the age of four. By the time Alex turned ten, he was already playing in local bands. As a teenager, he moved to Lima and became one of Peru's most accomplished session drummers, performing on many recording projects for artists, as well as film and television productions.

In Lima, Alex also earned a glowing reputation for his live performances. So much so, that at the age of eighteen, Alex was chosen by the great Latin band leader, Perez Prado, to join his big band. It was with the Prado band that Alex first traveled to the United States. In 1967, Alex moved to Puerto Rico to work as a studio musician and play locally. During this period, he also studied for three years at the Puerto Rico Conservatory of Music, playing as a classical percussionist with the Symphony Orchestra under the direction of the famed Spanish cellist master Pablo Casals.

Alex moved to Las Vegas in 1974, where he played with such greats as Elvis Presley and Diana Ross. Between 1975 and 1977, he made part of jazz history when he became both drummer and percussionist for one of the most innovative and pioneering jazz groups of our time, Weather Report. He first performed as percussionist (October 1975 to April 1976), and later as drummer (April 1976 to October 1977). He recorded two albums with the group: "Black Market" (1976) and the highly successful "Heavy Weather" (1977), which included the famous tracks "Birdland" and "Havona." "Heavy Weather" became the first jazz-fusion album to sell a million copies.

Alex next moved to Los Angeles, California, in 1978 where he quickly earned the position of a valued session drummer and percussionist for recordings, television and motion pictures. His countless album credits include such diverse artist as U2, Paul McCartney, Joni Mitchell, Ella Fitzgerald, Whitney Houston, Sergio Mendes, Yellow Jackets, Chic Corea, Julio Iglesias, Koinonia, Juan Gabriel, Luis Miguel, Placido Domingo, Wayne Shorter, Joe Zawinul and many more. Alex has also performed live with the likes of Al Jarreau, Roberta Flack, Antonio Carlos Jobim, The Gipsy Kings, Paco de Lucia, Carlos Santana, Herbie Hancock, Christina Aguilera and Tito Puente, to name a few. Additionally, Alex has recorded film scores under the direction of Dave Grusin, Alan Silvestri, Michele Legrand, Bill Conti, Michele Colombier, Marvin Hamlish, Maurice Jarre, Mark Isham, Hans Zimmer, John Williams, Lalo Schiffrin and others. He became the recipient of many awards and honors including the Emeritus MVP award from NARAS (National Academy of Recording for the Arts and Sciences) and winner of the "Best Latin/Brazilian Percussionist" of Modern Drummer's Readers Poll for five consecutive years.


Processing your request, please wait....