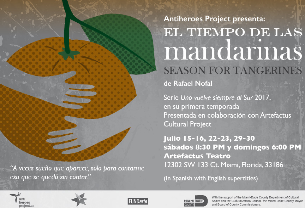 Culture Shock Miami for ages 13-22
Season for Tangerines presented by Antiheroes Project
Saturday, Jul 22, 2017 8:30 PM EDT
Artefactus Black Box, Miami, FL

Purchase Tickets
Culture Shock Miami ticket sales have ended for this event. You may contact the venue for availability of regular-priced tickets.
Additional Information
Season for Tangerines by Rafael Nofal
A number of kidnapped girls, who dream of returning home, secretly journey an entire country in hopes of finding their families again. Tough and difficult, heart-rending and poetic,Season for Tangerines is a monument to universal human values such as friendship and freedom.
As part of the series Uno vuelve siempre al sur, this work is presented together with Expectativa, a photographic exhibition by Jeily Perez Olmo, slated to open the same day. Both works in collaboration with Artefactus Cultural Project.
Season for Tangerines will offer English supertitles, stage guided tour for blind people, as well as Braille and Large Print hand programs thanks to the support of the Audience Access Grant Program of the Miami-Dade County.
Durante años, una mujer espera incansable por su amiga desaparecida en el parque que compartieron desde la infancia. Al desaparecer, tenía 23 años y las dos compartían el gusto por comer mandarinas en invierno.
De repente se le acerca una joven que espera a su novio, un hombre misterioso a quien apenas acaba de conocer y con quien planea fugarse de casa. La recién llegada también trae mandarinas en su bolso. Entre preguntas y recuerdos, la mujer descubre que la joven podría ser secuestrada de un momento a otro.
Romina Musach, Suzette Silva y Mariela Brito cuentan la historia de mujeres sin nombre en El tiempo de las mandarinas, la nueva producción de Antiheroes Project


Processing your request, please wait....