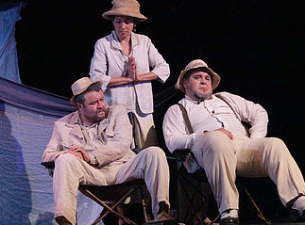 Culture Shock Miami for ages 13-22
32 International Hispanic Theatre Festival of Miami: Tres Viejos Mares
Friday, Jul 21, 2017 8:30 PM EDT
Dade County Auditorium, Miami, FL

Purchase Tickets
Culture Shock Miami ticket sales have ended for this event. You may contact the venue for availability of regular-priced tickets.
Additional Information
ESCENA NORTE, El Salvador
GRUPO TEATRAL BAMBÚ, Honduras
RAYUELA TEATRO, Guatemala
TRES VIEJOS MARES (Three Old Seas)
by Arístides Vargas, directed by Arístides Vargas and Charo Francés
Three old men meet by the sea to talk about the twilight of their lives. In those meetings there is rivalry, jealousy, disappointment, illusions and a constant background voice: the sea, which throws stories and memories back with the tides. It is a sea older than the men are, with dates, events, battles and names that mix with the sea inside each one, a hodgepodge of ghosts with no rhyme or reason. Three old seas addresses memory, a recurrent theme of Arístides Vargas, and like all his plays combines humor, tenderness, despair and the innocence of characters who attempt to reconstruct themselves.
MDCA's On.Stage Black Box Theatre, 2901 W. Flagler St., Miami
(In Spanish)
ESCENA NORTE
San Salvador, EL SALVADOR
presents/ presenta
TRES VIEJOS MARES (...)
by Arístides Vargas
directed by/ dirigida por Arístides Vargas & Charo Francés
SOBRE LA OBRA
Tres ancianos se reúnen frente al mar a dialogar sobre el ocaso de sus vidas. En esos encuentros hay rivalidad, celos, desencanto, ilusión y una voz permanente de fondo; el mar, que les devuelve historias y recuerdos. Es un mar más viejo que ellos, que tiene fechas, sucesos, acontecimientos, batallas y nombres que se une al agua de adentro, al océano de cada viejo, que es un sancocho de fantasmas sin pies ni cabeza. Tres viejos mares gira en torno a la memoria, un tema recurrente de Arístides Vargas, y como todas sus obras conjuga el humor, la ternura, la desesperación y la inocencia de unos personajes que tratan de reconstruirse a si mismos.



Processing your request, please wait....