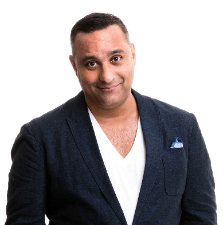 Purchase Tickets
Tickets for this show are sold out.
Additional Information
Only a handful of today's artists can claim their success began with YouTube, and even less, if any, having then been named alongside such luminaries as Richard Pryor, George Carlin and Eddie Murphy in Rolling Stone's just released list of the 50 Best Comics of All Time. In comedian Russell Peters' case, "success" may be a drastic understatement.
Peters started doing stand-up at the age of nineteen at open mics in his native Toronto in 1989. He spent the next fifteen years honing his craft at clubs across Canada and the United Kingdom.
In 2004, Peters gained critical and global recognition for his CTV "Comedy Now!" special which wound up on YouTube. That upload launched a new level of fame and unforeseen success. It also led to larger and larger shows, not only in arenas in his native Canada, where he became the first comedian to sell-out Toronto's Air Canada Centre in 2007 (as of today, six times and over 100,000 people), but to arenas in the United States, the UK, Australia, South Africa, the Middle East and Asia.
Since that time Peters has released five stand-up specials on Showtime, Comedy Central and Netflix; Outsourced (2006); Red, White and Brown (2008); The Green Card Tour Live from the O2 Arena (2010); Notorious (2013); Almost Famous (2016) and a documentary series Russell Peters Vs The World (2013).
Peters has also appeared in CBS hit show Life in Pieces and has starred in several features; The Clapper (2017), Public Schooled (2017), Supercon (2017), Ripped (2017), The Jungle Book (2016), Source Code (2011), Breakaway (2012), Girl In Progress (2011). He has also appeard on The Tonight Show with Jay Leno, The Jimmy Fallon Show, Jimmy Kimmel Live, Lopez Tonight, Craig Ferguson, the Queen Latifah Show and Def Comedy Jam.
Peters is currently filming and starring in his first series, The Indian Detective for CTV / Bell Media and Netflix. The Indian Detective also stars William Shatner, Anupam Kher and will begin airing in the fall of 2017.
In June 2017, Peters will begin a tour of clubs across the United States as he builds his new material.
Green Harlequin Package
• One reserved VIP ticket
• VIP Priority Check-in - no waiting on line
Gold Harlequin Package*
• One reserved VIP Ticket
• VIP Priority Check-in - no waiting on lines
• Top Shelf Open Bar during the show - open top shelf bar, domestic and imported beer, wine, soda, and bottled water
*Gratuity is NOT included in the price of the package. You can leave a gratuity for your server at the end of the show.
Upon arrival at Carolines, both Green and Gold ticket purchasers should proceed directly to the host podium at the bottom of the stairs. Due to the location of these priority seats, we can only hold them until show time. Late arrivals will be seated in the best available seats.
For Groups of more than 12 please call 212-956-0101 x 203.
For all other inquiries please call 212-757-4100.


Processing your request, please wait....