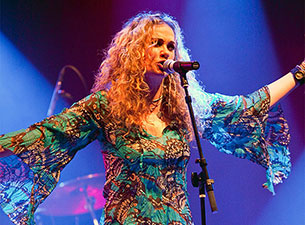 Dana Fuchs Duo
Thursday, Aug 24, 2017 8:00 PM EDT (7:00 PM Doors)
Iridium, New York, NY

Purchase Tickets
Pre-sale tickets are no longer available for this event. Tickets will be available at the door, or contact our box office at 212-582-2121 for further information.
Additional Information
Dana Fuchs – Beautiful Screamer
After a break from touring to have her baby, Dana Fuchs has been hard at work on her new album, Ready To Rise. The "Ready To Rise" tour will kick off in Dana's home town of NYC at the famous Iridium for back to back nights where she will debut new original music written for the album plus iconic cover songs from some of her favorite legends- Chaka Khan, Esther Phillips, Etta James, Janis Joplin, Joni Mitchell.
Dana Fuchs is a rock warrior goddess.
She's been described as sultry and incendiary. She howls, she moans, she whispers. She kicks her legs like she could kick your ass and whips her hair around like it could power turbines. She can sing as subtle and sweet as a songbird and she can roar like a lion. Her entire being becomes her instrument on stage. Make your way to see her in person any way you can. Not only will you ache from shaking your ass all night, but your life will be touched and you will be better for it.
Yes, yes, she's all kinds of beautiful, as is befitting a goddess. Nearly a decade ago, millions fell in love with her as Sexy Sadie in the Beatles lyrics-inspired film, Across the Universe. Cascading corkscrew curls frame a brilliant smile and eyes so intense Cleopatra would covet them. But that is just the door to the palace. She looks like an angel, sings like the devil and swears like a trucker. Just that combination is enough to wreck you. But she's also genuine and human and deep. Damn is she deep.
Inevitable comparisons are made to Janis Joplin, in part because Fuchs played her quite well on stage near the beginning of her career. And upon hearing for the first time that rocky-roughness in her voice, you may recall the summer of love. She definitely has that kind of charisma. She definitely has that smoky sadness simmering near the surface. She also wears her heart on her sleeve, and makes no secret about the pain and loss she's experienced. In fact, she shares it on stage and off. She writes incredibly impactful songs about battles won and lost, friends and family gone too soon, and love lost just before it was realized.
Last year she lost yet another member of her family, a brother to whom she was very close. When she took the stage it had been only a few weeks and the wound was still fresh. She talked to the audience like a trusted friend and then had them in tears with the music that followed. But like the blues that run through her genre-defying tunes, she explored the sadness and then lifted you from it.
Unlike those giants felled by the weight of their own pain, she has not allowed tragedy to define her. Instead, it seems, she sits with it, searches it for secrets, and hones it into something she can use, slicing through silence and reaching into the guts of the matter at hand. Minutes later she's contorted into this impossible back-bend, beautifully screaming Helter Skelter. Then she's rocking to a sizzling Led Zeppelin cover, her voice growling and hissing, fists in fighting stance, mic stand askew, hip huggers pushed to their limits.


Processing your request, please wait....