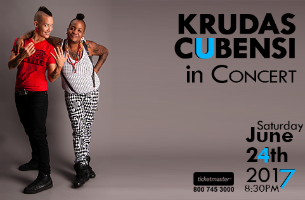 Purchase Tickets
Culture Shock Miami ticket sales have ended for this event. You may contact the venue for availability of regular-priced tickets.
Additional Information
Krudas Cubensi is a duo composed by Odaymara Cuesta and Olivia Prendes, Cuban Hip Hop MCs, Independent Musicians, Poets, Theater Performers, and Educators representing Black & Latin Womyn, Immigrants, Queers, and People of Color Action as a Central Part of World Change. They choose art as a weapon to fight against oppression, and for justice, balance, human rights, and a celebration of life. Born & raised in Cuba, both became involved in activism early in their lives. Formed in 1999, Krudas Cubensi/Las Krudas has released seven recordings, including Hivhly Addictive (2016) Poderosxs (Powerful) (2014), Outerspaces Power in the Margins (2014), Levantate (Rise up) 2012, Krudas Compilation (Mixtape) 2009, Resistiendo (Resisting) 2007, Kandela (Fire) 2005, and Cubensi Hip Hop (2003). Krudas has toured The Caribbean, Europe, North, Central and South America, bringing Cubensi Hip Hop, Dance Hall, Cumbia, Old School, Mixtapes, and new strongly beautiful Beats from all around the World with their Amazing Afro Caribbean Rebel Lyrics & Voices to empower the community.
FUNDarte presents Out In The Tropics 2017, a
weeklong performing arts series featuring artists who tackle issues of gender
politics, sexuality, and LGBTQ identity. Now in its eighth year, this provocative
program series runs from Thursday June 22nd to Sunday June 25th, in Miami
Beach. Out in the Tropics will present four distinct national and international
artists including concerts at the Gleason Room at the Fillmore Miami Beach, on
June 22nd and direct from Spain an evening of sultry flamenco/jazz/hiphop fusion
with the provocative La Shica; on June 23rd a concert by New York-based vocal
icon Joey Arias; on June 24th a feminist hip-hop sensation Krudas Cubensi, a
duo of vocal rap activists that recently relocated from Havana to Austin, TX; and
on June 25th culminating with a literary reading by Miami's own Antonio Orlando
Rodriguez at the Miami Beach Botanical Garden.


Processing your request, please wait....