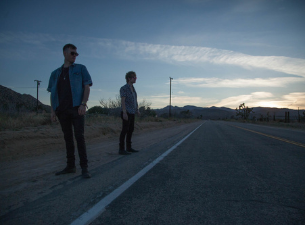 Purchase Tickets
Please call 707.880.2300 (3:30-9:30 pm) to reach venue Box Office to check availability as tickets may be available. .
Additional Information
We gotta keep pushing, gotta keep pushing through. It's gotta mean something to you. Occupying the fertile ground between organic band land and an all-electronic production project, Bob Moses draw on the two poles to vividly resonate across both. A duo with an individual name, Tom Howie and Jimmy Vallance's musical endeavor plays with this kind of duality all over their debut album Days Gone By.
"We were never happy just making music on guitars," says Tom Howie of the organic-electronic sound of Bob Moses, the Brooklyn-by-way-of-Canada duo he formed with partner Jimmy Vallance. "Our live show combines what a DJ does with a rock band," Vallance adds. "Everything flows together in a continuous mix for the dancefloor, but it's all our own original music, with live vocals and guitar. Then again, we came out of a scene that was trying to change what dance music is – that pushed beyond the expected sonic spectrum."
Initially connecting in high school back in Vancouver, the two went their separate ways – Howie to Boston's Berklee College Of Music, Vallance to the commercial dance charts producing big room floor fillers. After moving to New York City separately only to serendipitously bump into each other in a carpark and discover that they each had studios across the street from each other in Red Hook, the call was made to get together to try and jam something out.
Any additional information needed find it here.
http://www.bottlerocknapavalley.com/lineup-schedule/2017-artists/
JaM Cellars Ballroom / Margrit Mondavi Theatre: UPSTAIRS
General Admission and standing with limited seating upstairs in the balcony
Each person does require a ticket for entry. We welcome ages 8+ with children under 16 accompanied by an adult. No Babes in Arms.
No Refunds. No professional cameras or outside food and drink.
There is no dining available in the Ballroom, but there is a Bar available for drink purchases. Patrons attending a show upstairs in the Ballroom are welcome to dine in the restaurant starting at 5 pm if available.
Due to the historic nature of the Ballroom, there are no bathrooms located upstairs. Facilities are located downstairs around the Blue Note Club and are accessible via stairs or the elevator.
Any special needs or accommodation requests, please call our Box Office.
Thank you and we look forward to seeing you!
The JaM Cellars Ballroom in the Margrit Mondavi Theatre is located UPSTAIRS in the historic Napa Valley Opera House
1030 Main Street, Napa CA 94559 / Box Office: 707.880.2300 (Tues-Sun, 3:30-9:30 pm)

Processing your request, please wait....