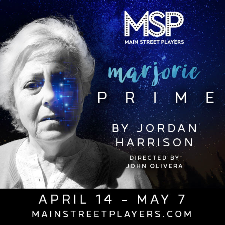 Culture Shock Miami for ages 13-22
MARJORIE PRIME Presented by Main Street Players
Friday, Apr 21, 2017 8:00 PM EDT
Main Street Playhouse, Miami Lakes, FL

Purchase Tickets
Culture Shock Miami ticket sales have ended for this event. You may contact the venue for availability of regular-priced tickets.
Additional Information
This thought-provoking science fiction play was a finalist for the 2014 Pulitzer Prize. It is about aging, loss of memory and the technology that eases the pain of both.
The story features 85 year old Marjorie, feisty and physically fit, but battling the loss of memory. She is living with her quick-witted daughter facing her own life crisis and her daughter's easy going husband. The other character in the play is the 35 year old holographic version of Marjorie's deceased husband, who spends time with her reliving the precious moments the two shared when he was alive.
Marjorie Prime will soon be hitting the movie theaters featuring Lois Smith, Gena Davis, Tim Robbins and John Hamm.


Processing your request, please wait....