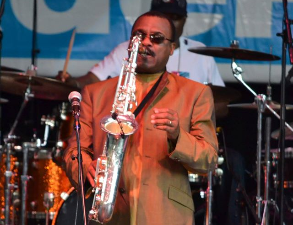 Catalina Bar & Grill
"SETTLE DOWN" with Ronnie LAWS CD Release party/live show/meet & greet
Wednesday, Mar 29, 2017 8:30 PM PDT
Catalina Bar & Grill, Hollywood, CA

Purchase Tickets
We're sorry, there are no tickets currently available through TicketWeb.
Additional Information
When discussing saxophonist, flutist, vocalist and composer Ronnie Laws there is no good place to begin. Maybe you start with his incredible abilities, which critic Jonathan Widran so perfectly described when he wrote, "(Laws) is the consummate melodic inventor, solid improviser and card carrying funkateer." Or maybe you focus in on how Berklee College of Music Professor Walter Beasley calls Laws, "One of the greatest conceptualists of all time," and lists Laws' soprano sax solo on "Friends And Strangers" as one of only three perfect R&B solos in the history of recorded music.
Maybe it's best to look at how many people Laws has reached in his long career by seeing how well his records have always done on the Billboard jazz charts. For example, Laws' first record, Pressure Sensitive, went to number 3, Fever went to number 3, Friends And Strangers to number 2, Flame to number 1, Every Generation to number 1, and Solid Ground to number 2. What's even more amazing is those same albums, led by a saxophonist don't forget, all charted on the Billboard pop charts. Pressure Sensitive went to 73, Fever went to 46, Friends And Strangers to 37, Flame to 51, Every Generation to 24, Solid Ground to 51, and Mr. Nice Guy not only charted as high as 98 on the pop chart but it also went to 49 on the R&B/Hip-Hop chart. Even when Billboard changed and started having a contemporary jazz chart, Laws was again a fixture there as well. True Spirit went to number 13, Identity to 19, Deep Soul to 6, Natural Laws to 25, Dream A Little to 16, and Everlasting to 25. What this proves is how broad a representation of audiences Laws' music appeals to.

When discussing the music, all of Laws' recordings, from the 1970s forward, demonstrate an artist who is at the top of his game. He has found a way to take his outstanding jazz soloistic abilities and meld them into not only into the straight-ahead genre, see the Eddie Harris tribute album, but also into the R&B, funk, contemporary urban jazz, adult contemporary and contemporary jazz domains. In fact his music transcends so many categories, the previous list being just a paltry attempt, that perhaps it's best to think of Laws like one does of Frank Zappa - outside of boundaries and into a genre all his own. There is no way one can listen to gems like Friends And Strangers, Every Generation and Portrait Of The Isley Brothers, as just three random examples, and not be totally overwhelmed by the groove, the solid back-beats, the trippy rhythm section arrangements and Laws' own big full-bodied Texas-tenor sound. In addition Laws continually seeks out improvisational routes that are not only locked solidly in the harmonic schemes but are also used as jumping off points in the creation of his own singularly unique conceptual vision. The end result are incredibly funkified and terminally hip locked-in- the-pocket solos. Darn few of today's young saxophonists hold a match, much less a candle, to Laws' own all-consuming blazing abilities.


Processing your request, please wait....