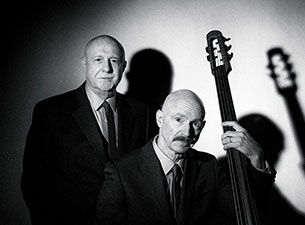 Levin Brothers with opening act Steve Adelson
Tuesday, Apr 04, 2017 8:30 PM EDT
Iridium, New York, NY

Purchase Tickets
Pre-sale tickets are no longer available for this event. Tickets will be available at the door, or contact our box office at 212-582-2121 for further information.
Additional Information
PETE LEVIN piano, organ
TONY LEVIN upright bass, cello
ERIK LAWRENCE sax, flute
JEFF SIEGEL drums
"We grew up in Brookline, Massachusetts, a suburb of Boston, where we were trained in Classical music from a young age. But we also loved the 1950's recordings by jazz bassist Oscar Pettiford and jazz French horn player Julius Watkins; and those have remained influential, even as we went on to other playing. The catchy melodies, deep grooves, and tight solos made that music memorable, and it's been percolating for years for us to do an album of our own in that style.
"The two of us have crossed musical paths many times over the last decades, having toured together with Paul Simon, and played in each others groups and albums; but we've never done a Levin Brothers album 'til now, and it's pretty special for us.
"After writing material for it over the last few years, we invited outstanding players familiar with the musical territory to join in - guitaristDavid Spinozza, sax player Erik Lawrence and drummer Jeff "Siege" Siegel. Steve Gadd appears as a special guest on the album, playing drums on two songs, "Bassics" and "Fishy Takes A Walk." (* Tony and Steve's history dates back to their days in school together, followed by a lot of albums and tours.)
"The sessions took place at Scott Petito's NRS Studio, in the Woodstock area where we live. The material is all our own, all new compositions except the lovely King Crimson song, "Matte Kudasai."Because we kept the songs short, there was room for a lot of material on this release; the CD has 14 tracks plus 2 exclusive bonus tracks.
"Another long time wish that's come true with this release - a vinyl LP version of the music. We're told that 'Vinyl is coming back' and we're ready for that. In pre-orders, we're offering a special limited edition LP (1,000) with unique colored vinyl, each signed and numbered by us. The LP has 12 tracks, with a card enclosed to digitally download the CD's 14 tracks. We'll also be autographing the first 1,000 CD's ordered.
"And, to show our appreciation for the support by those of you who help us out by pre-ordering, we've asked our friends at Lazy Bones Recordings to share an extra download track with everyone as those pre-orders come in. It's titled "Azalea" a beautiful song recorded for the project that doesn't appear anywhere else."


Processing your request, please wait....