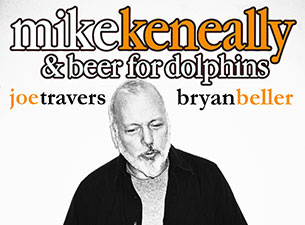 Mike Keneally & Beer for Dolphins
Monday, Apr 03, 2017 8:30 PM EDT
Iridium, New York, NY

Purchase Tickets
Pre-sale tickets are no longer available for this event. Tickets will be available at the door, or contact our box office at 212-582-2121 for further information.
Additional Information
I started playing keyboard when I was seven, when my parents gave me an electronic organ for Christmas. It was a total box of magic to me. For my eleventh birthday I got a guitar and that was a whole different kind of beast, one that I loved just as much. I played both instruments obsessively while I was growing up.
I was a weird kid, and I slowly learned to adapt in different circumstances, except when I didn't. To the extent that I did, this came in handy when I was 25 years old, in late 1987, and got hired to play guitar and keyboard with Frank Zappa, my ultimate musical hero when I was growing up. It took me a while to recover after the Zappa tour, and decide on a next step, but as the 90s got underway I eventually got a solo career going (while also working with Frank's sons in the group Z, and then playing in Steve Vai's band for six years. Both extremely fun and educational experiences). Some friends of mine (Jeff and Suzanne Forrest, thank you!) in San Diego started a label, and I signed with Immune Records and did eight audio or video projects with them from 1992 to 1998 – this was when I did hat., Boil That Dust Speck and Sluggo! as well as other titles. Then my pal Scott Chatfield and I formed Exowax Recordings in 1999, and starting with the instrumental one-man-band album Nonkertompf we unleashed another twenty or so Keneally releases, including regular albums, EPs, limited editions with DVDs or bonus albums, etc. Exowax merrily continues pumping out delicious audio for you, to this very freakin' day.
I started playing live with my own bands a lot in the late 90s, playing insanely intricate stuff, improvising a lot and doing a lot of crazy things onstage, but not quite settling into a jam band scene, or a fusion scene, or an alternative scene, or a prog scene, but (I guess?) combining something of all of that, without ever attempting to do anything specific genre-wise at all; I just keep trying to make music that I enjoy hearing.
Sometime around 2000 I started occasionally seeing brown triangles, giving me musical instruction according to some arcane outerplanetary notational system. This would happen, sometimes, when I was playing guitar onstage with my eyes closed. After a couple of years, it stopped. I think it helped my playing for good, and I enjoyed it a lot.
In 2006 I started writing songs with Andy Partridge, former leader of XTC and songwriting hero of mine. Six years later in 2012, I put out an album called Wing Beat Fantastic: Songs Written By Mike Keneally & Andy Partridge. Working with Andy was another fairly unbelievable dream come true for me, similar to working with Zappa in terms of the impact these gentlemen have had on my life.
Largely thanks to the kind patronage of Co de Kloet at NTR Music in the Netherlands, I've also written some orchestral pieces (sometimes with myself as guitar soloist); the most notable is the 52-minute suite The Universe Will Provide, recorded with Holland's Metropole Orkest and released by NPS Music/Favored Nations in 2003.
I also work a lot nowadays as a member of Joe Satriani's band, and that is really hugely fun. And I play death metal, along with Brendon Small, as a guitarist in the live band Dethklok (originated in cartoon form on the [adult swim] TV program Metalocalypse.


Processing your request, please wait....