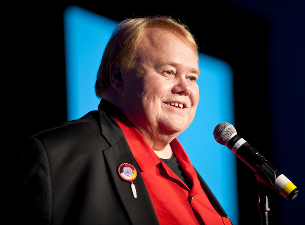 Purchase Tickets
Please call 212-757-4100 to make a reservation
Additional Information
LOUIE ANDERSON
Iconic comedian Louie Anderson, the two-time Emmy award winner, is one of the country's most recognized and adored comics; named by Comedy Central as "One of 100 Greatest Stand-Up Comedians of All Time." His career has spanned more than 30 years. He is a best selling author, star of his own standup specials and sitcoms, and he continues to tour the country performing to standing room only crowds worldwide.
In 2016, Louie was cast to co-star along with Zach Galifianakis and Martha Kelly in the hit FX series, "Baskets." Anderson's extraordinary new role is Christine Baskets, the matriarch of the Baskets clan. The character is based on both his mother and his five sisters, who were a major presence in his life.
"I'm not as nice in the character as my mom was as a person. It really is an extension of my mom, Anderson says, adding that he always aims to make his performance "as real as possible" without "affecting or cartooning it up. It felt like it was divine intervention when I got the call to be on the show, that somehow my mom, from the great beyond, was finally getting herself into show business where she truly belonged in the first place."
Sharing the ups and downs of his childhood experiences as one of eleven children in Minnesota, Louie crafted comedy routines that rang true for his early club audiences while reducing them to helpless fits of laughter, routines that led him from his career as a counselor to troubled children to the first-place trophy at the 1981 Midwest Comedy Competition. Henny Youngman, who hosted the competition, recognized the diamond-in-the- rough genius of the young comic and hired him as a writer, providing invaluable experience that soon put Louie in his own spotlight on comedy stages all over the country.
His best selling books include Dear Dad – Letters From An Adult Child, a collection of alternately touching and outrageous letters from Louie to his late father, and Good-bye Jumbo...Hello Cruel World, self-help for those who struggle with self-esteem issues, and his latest installment on family, The F Word, How To Survive Your Family.
When not in production, Louie continues to tour, traveling the States doing what Louie loves to do, Stand Up Comedy.
For Groups of more than 12 please call 212-956-0101 x 203
Green Harlequin Package
• One reserved VIP ticket
• VIP Priority Check-in - no waiting on lines
Gold Harlequin Package*
• One reserved VIP Ticket
• VIP Priority Check-in - no waiting on lines
• Top Shelf Open Bar during the show - open top shelf bar, domestic and imported beer, wine, soda, and bottled water
*Gratuity is NOT included in the price of the package.
Upon arrival at Carolines, both Green and Gold ticket purchasers should proceed directly to the host podium at the bottom of the stairs. Due to the location of these priority seats, we can only hold them until show time.


Processing your request, please wait....