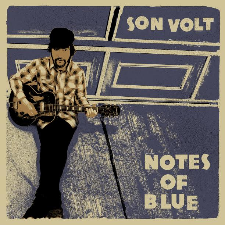 Lightning 100 Welcomes
SON VOLT w/ Johnny Irion
Friday, Mar 17, 2017 8:00 PM CDT (6:00 PM Doors)
3rd and Lindsley, Nashville, TN

Purchase Tickets
We're sorry, there are no tickets currently available through TicketWeb, only at venue
Additional Information
Son Volt
"There are only two kinds of songs," Townes Van Zandt said, well before he died. "There's the blues, and there's zip-a-dee-doo-dah." The new Son Volt album is titled Notes of Blue.
Just now pushing fifty, Jay Farrar, the creative force behind Son Volt, is still not as old as his voice. Not nearly. His singing voice, an ageless gift which sounds something like old timber looks, like the unpainted walls framing Walker Evans' best portraits from Let Us Now Praise Famous Men: simple, durable, weathered and grooved and unplanned.
Notes of Blue will be the twentieth album — including a couple live releases and two movie soundtracks — to which Farrar has lent his voice and songwriting.
To be clear, Notes of Blue is not the blues of appropriation, nor of beer commercials, nor especially of the W.C. Handy awards. It is the broader blues of the folk process, where they have always lived, irrespective of culture and caste. The blues as one of many languages available to shape and recast as the song needs. The blues as a jumping off point.
Or, as Jay says, "For years I've been drawn to the passion, common struggle and possibility for redemption that's always been a part of the blues. Everyone has to pay the rent and get along with their significant others, so many of the themes are universal. For me, the blues fills that void that's there for religion, really. That's the place I turn to be lifted up."
And yet Jay Farrar seems nearly at peace with all of it. "Yeah, there's a glimmer of hope," he says. "What I get from the blues is that there's a chance for redemption. Whether this record achieves that is anyone's guess."
Johnny Irion
John Irion is a rocker in and out of time. There's something kind of timeless in the way he wrings out the sweetest melodies and deeper passions of both '60s Californian rock and Guthrie-era folk, and something so timely about the way he does it – there's a reason Bernie Sanders asked him to sing at a rally in his sometimes-home of Santa Barbara. Best known for his folk explorations with his wife Sarah Lee Guthrie, including their recent Wassaic Way produced by Jeff Tweedy, and his latest rock venture with US ELEVATOR, which Will Hermes of Rolling Stone Magazine praised for its "songs that are hand crafted as lovingly as the jeans on the back of After the Goldrush," Irion has earned a reputation as one of the most exciting artists across the folk-rock spectrum, from his uncannily Young-Nilsson-esque voice to his melodic and lyrical mettle. Iron has just wrapped up a solo record, Driving Friend, with members of Dawes, Wilco, Nicki Bluhm, and The Gramblers, due out this spring. He will be joining SON VOLT for their spring tour.


Processing your request, please wait....