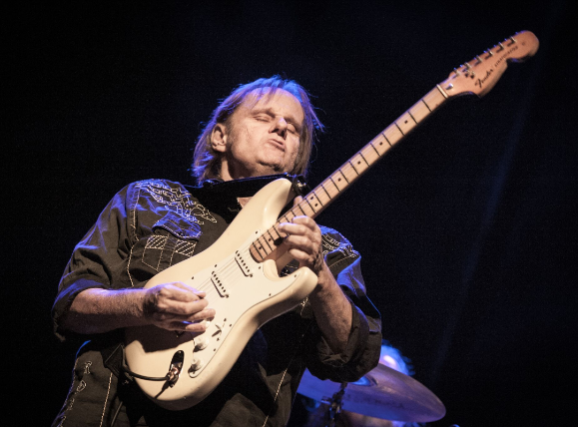 Walter Trout w/ RJ Howson
Saturday, Apr 21, 2018 8:00 PM EDT
Skipper's Smokehouse, Tampa, FL
21 years and over
Additional Information
8pm $20/25 and $50 VIP
Walter's ONLY Florida club date on his tour! $50 VIP ticket includes an autographed copy of Walter's latest cd.
Walter Trout Walter Trout is the beating heart of the modern blues rock scene, respected by the old guard, revered by the young guns, and adored by the fans who shake his hand after the show each night. After five decades in the game, Trout is a talismanic figure and part of the glue that bonds the blues community together, at a time when the wider world has never been so divided. He's also the only artist with the vision, talent and star-studded address book to pull off a project on the scale of We're All In This Together. "It was quite a piece of work to get this record together," he admits. "But I guess I have a lot of friends, y'know…?" Before you even hear a note, We're All In This Together has your attention...This is the sound of an artist not just getting by with a little help from his friends, but positively thriving, on an album that is sure to light another rocket under his blooming late career. "I'm 66 years old," considers Trout, "but I feel like I'm in the best years of my life right now. I feel better than I have in years physically. I have more energy. I have a whole different appreciation of being alive, of the world, of my family, of my career. I want life to be exciting and celebratory. I want to dig in. I want to grab life by the balls and not let go, y'know…?" More: https://www.waltertrout.com
w/ RJ Howson Fire branded in the Chicago blues circuit, roots rocker and bluesman RJ Howson picked up his skillful guitar chops performing and sharing the stage with blues icons and fellow musicians at Buddy Guy's Legends, Rosa's Lounge, Kingston Mines, BLUES on Halstead and many other clubs in the Windy City and playing countless shows all over the midwest. RJ continues to be steeped in the southern stews since moving to Florida with openers for Butch Trucks & the Freight Train Band, Dickey Betts & Great Southern, the Atlanta Rhythm Section, Molly Hatchet, Buddy Guy and a host of legendary musicians. Having played music since being a child, RJ has played everything from Chicago Blues to Funk, Soul, Rock, Gospel, Country, Salsa and World Music. "My goal is to use music to show that the roots of all people are the same and to play it forward while paying tribute to the past and my mentors". RJ has studied many styles of finger picking techniques from various genres of music, instruments and cultures. "I was finally convinced to play exclusively without a guitar pick and just with my fingers by watching and being encouraged by Howlin' Wolf and Muddy Water's guitarist Hubert Sumlin and Modern Chicago Blues Treasure Lurrie Bell. I had also been inspired by many of the early Country Blues players Since moving to Florida, RJ has been blessed with encouragement from a new friendships with Dickey Betts & Great Southern, Damon Fowler, Berry Duane Oakley, and many other great Florida based musicians. "I love to speak with the strings and believe the tone is in the fingers." http://artistecard.com/rjhowson#!/bio


Processing your request, please wait....