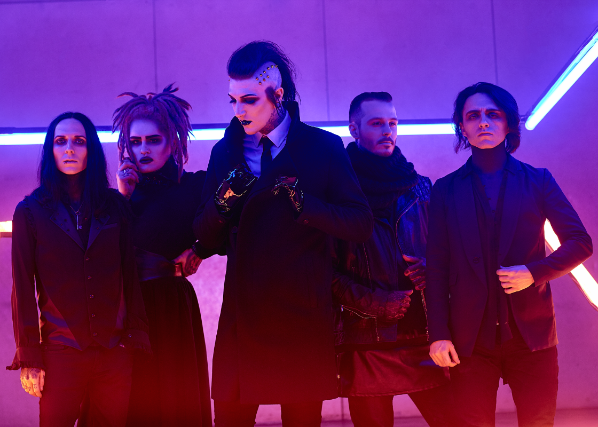 JMax Productions
Motionless In White




Every Time I Die

,

Like Moths To Flames

,

Ice Nine Kills

Sunday, Mar 25, 2018 7:00 PM PDT (6:00 PM Doors)
Cargo Concert Hall, Reno, NV

Additional Information
Tickets are available locally at Recycled Records (S Virginia) and the Cargo box office (inside Whitney Peak).
An industrial city situated in Northeastern Pennsylvania, you could say Scranton quietly prides itself on a tried-and-true Rust Belt blue-collar work ethic.

For their fourth full-length album and first for Roadrunner Records Graveyard Shift, Motionless In White—Chris Motionless [Vocals], Ricky Horror [Guitar], Ryan Sitkowski [Guitar], Ghost [Bass], and Vinny Mauro [Drums]—dug into the roots of their hometown's pervasive attitude.

"We're a band that came out of the small town blue-collar spirit," affirms Chris. "We put ten years into growing this and working hard to do what we love the most. We look forward to putting in another ten. Both the area we come from and the fan base brought us to this point. Graveyard Shift is all about that work ethic. It's been instilled in us. Early on, we realized if you give the time and effort to chase a dream, it's possible to achieve it by the sheer amount of drive and passion you have."
Scranton plays a subtle role in the overarching narrative itself. Chris can recall finding early inspiration in the city's once fertile music scene, which slowly dissipated over the years. At the same time, he and his bandmates have transported that energy worldwide with Graveyard Shift.

"I like to think we're taking our favorite traits of this area on the road and showing the rest of the world what Scranton created out of all that great camaraderie, those friendships, and the memories," he says. "We all come from the same spot. It's something I think many people all over the world can identify with. We're not content to just sit still and let life happen. We want to show you can take the initiative, go out there, and make a difference for yourself. That rings throughout all of the songs and speaks to the true meaning of Graveyard Shift."

Ultimately, Motionless In White have the power to electrify a new love for rock music in the process.

"We're quite a simple band in terms of our intent," he leaves off. "Turn off your head, detach from reality, listen to the music, and enjoy the songs. That's what we're encouraging. We want to give people something to latch on to away from life's bullshit. I hope they walk away feeling their love for music was either restored or upheld."


Processing your request, please wait....