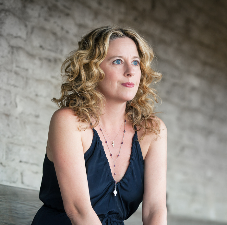 Purchase Tickets
We're sorry, there are no tickets currently available through TicketWeb.
Additional Information
Amy Helm began connecting with audiences early in life, playing her first gig in her early teens in a Manhattan bar and drifting informally through a series of combos before her father recruited her to join his live band. She also absorbed musical and personal inspiration from her mother, noted singer/songwriter Libby Titus; and her stepfather, Steely Dan co-mastermind Donald Fagen, who offered Amy additional opportunities to find herself as a performer.

"I always did gigs through high school and college," she explains, "but my fears and insecurities kept me from committing to it. That's when my dad became a huge influence; he scooped me up when I was in my mid-20s and put me in this blues band. I was very, very green, but I got my road-dog status with him. It was like walking through fire every time I got on stage, but it forced me to decide if I wanted to do this. And I decided that I absolutely wanted to do it."

Amy's vocal and songwriting talents soon found a home in the New York-based Ollabelle, whose three acclaimed albums and countless live gigs saw her evolve into a confident, charismatic performer. She also resumed her musical collaboration with her father, singing and playing in his band, playing on and co-producing his Grammy-winning 2007 comeback album Dirt Farmer, and helping to organize the now-legendary Midnight Ramble concerts at Levon's home studio in Woodstock, NY.

"He was the best teacher, in so many ways," Amy says of her father. "He wasn't interested in overthinking anything; all he cared about was playing music. He saw himself as a working musician, and it was serious business and it had to be right. Playing side by side with him in the Ramble band for ten years, and building those shows with him, really changed the way I approached things, and his humility influenced and shaped me as a musician, as it did everyone who played with him."

With Didn't It Rain reintroducing her to the world as a solo artist, Helm says that her immediate plan is "to just get out and play as many gigs as possible. I think that the job of a musician is to try and shake people out of their own heads for an hour or two, and bring some joy into the world. So I want to get out there and do the job the best I can."
It takes most of us the better part of a lifetime to work out what it is that we were put on this Earth to do. Once in a while there comes a rare soul who knows, from a very young age, precisely why he's here. Connor Kennedy is one such soul. And he was put here to make music. Great music. Heartfelt music. Lasting music.


Processing your request, please wait....