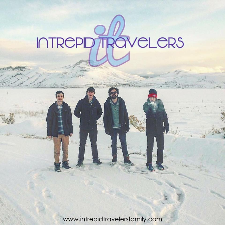 Purchase Tickets
We're sorry, there are no tickets currently available through TicketWeb.
Additional Information
Founded in 2013 on friendship, fun, and a sense of freedom, Intrepid Travelers is a musical quartet from Buffalo, NY that defines itself through boundless improvisation and eclectic evolution. Treating each live show as a journey with the audience rather than a performance, Intrepid Travelers pride themselves on a form of focused, collective expression that showcases a medium where cerebral musicianship meets heartfelt, soulful songwriting.

Quickly building a following as an improvisational band that draws influence from the diverse catalog of American music, each show delves into the unknown, throwing aside setlists and traditional arrangements for explorations in all genres, from heavy roots in jazz-funk fusion, rock, bluegrass, to even classical and electronic music. Party music for the head and heart that also keeps the dance floor grooving.

Since 2015, "IT" has been busy both in the studio and out, with the release of second EP "Flash Drive in a Bottle", as well as a live, in-studio video of the track "Conquistadors", embarking on multiple national tours, and the inauguration of its family-run festival, "IT Fest", all on its resume. Already breaking 100 shows in 2016, the young band has been on a meteoric rise like no other, and with the inclusion in national festivals such as Summer Camp Music Festival, Cobblestone Live, and Night Lights, people are beginning to notice. With the completion of only their fourth year, Intrepid Travelers are already continuing the great tradition of bringing people together, and do so with the same musical honesty and rawness of improvisation giants before.

"Improvisation does indeed play a role in Intrepid Travelers' sound, but so to do strong, sturdy and well-conceived songwriting, something in ample evidence on the "Rainbow Monkey?" EP"- Jeff Miers - The Buffalo News

" 'Intrepid' describes them well: they are fearless and resolute and own their musical style, which is melodious and placid, while improvisational rhythm, solid riffs, keys, and jamming keep it elevated. Fun, fantastical lyrics complete the feel of their live performance, demonstrative of their crafting abilities. I look forward to further exploration of Intrepid Travelers."- Mary Mistretta - UpstateLIVE


Processing your request, please wait....