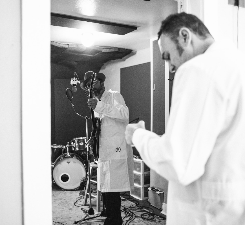 The Greyhounds w/s/g Intrepid Travelers
Wednesday, Oct 04, 2017 8:00 PM EDT
Funk 'n Waffles Music Hall, Rochester, NY
18 years and over
Purchase Tickets
We're sorry, there are no tickets currently available through TicketWeb.
Additional Information
As Greyhounds, guitarist Andrew Trube and keyboardist Anthony Farrell have been making music and touring for 15 years, refining and developing a sound Trube calls "Hall and Oates meet ZZ Top." The band also has long ties to Memphis, home of the soul that inspires them.
Ardent Music, the independent record label based out of legendary Ardent Studios in Memphis, Tennessee, expects to build on the fanbase the band has developed both on the road and as a staple of the Austin music scene. Label director Reed Turchi says, "We committed to three albums not only because we believe in these guys, not only because they're great musicians and songwriters, but because they've been incredibly prolific." "We're always writing," Trube says. "We've got songs for eight albums."

Ardent has had a long and productive relationship with Texas music: Studio C was designed for ZZ Top, which called Ardent Studios home for many years, and Stevie Ray and Jimmy Vaughan recorded Family Style in the famous brick building on Madison Avenue.

The first 'hounds out of the gate will be Accumulator, scheduled for an April 2014 release. The album will combine cream-of-the-crop tunes the band's devoted followers pass along to the uninitiated with new, previously-unreleased tracks.
Intrepid Travelers: Founded in 2013 on friendship, fun, and a sense of freedom, Intrepid Travelers is a musical quartet from Buffalo, NY that defines itself through boundless improvisation and eclectic evolution. Treating each live show as a journey with the audience rather than a performance, Intrepid Travelers pride themselves on a form of focused, collective expression that showcases a medium where cerebral musicianship meets heartfelt, soulful songwriting.

Quickly building a following as an improvisational band that draws influence from the diverse catalog of American music, each show delves into the unknown, throwing aside setlists and traditional arrangements for explorations in all genres, from heavy roots in jazz-funk fusion, rock, bluegrass, to even classical and electronic music. Party music for the head and heart that also keeps the dance floor grooving.

Since 2015, "IT" has been busy both in the studio and out, with the release of second EP "Flash Drive in a Bottle", as well as a live, in-studio video of the track "Conquistadors", embarking on multiple national tours, and the inauguration of its family-run festival, "IT Fest", all on its resume. Already breaking 100 shows in 2016, the young band has been on a meteoric rise like no other, and with the inclusion in national festivals such as Summer Camp Music Festival, Cobblestone Live, and Night Lights, people are beginning to notice. With the completion of only their fourth year, Intrepid Travelers are already continuing the great tradition of bringing people together, and do so with the same musical honesty and rawness of improvisation giants before.


Processing your request, please wait....