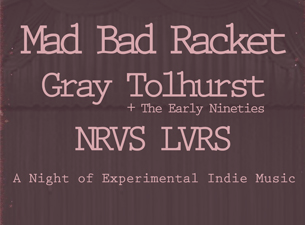 Purchase Tickets
Please call 707.880.2300 (3:30-9:30 pm) to reach venue Box Office to check availability as tickets may be available. Club Restaurant opens at 5 pm. Doors at 5 for 7 pm set, Doors at 9 for 9:30 set.
Additional Information
Napa Valley Opera House Presents:
Mad Bad Racket is an experimental indie rock duo consisting of veteran Bay Area producer/performers John Graves and Robinson Kuntz. After years of anticipation, they are bringing their music to the stage for their debut live performance on September 30th at the JaM Cellars Ballroom. Their set is a multi-medium experience exploring sound, video, lighting and technology.
Gray Tolhurst is a musician and writer based in San Francisco,CA. In addition to his solo work, he plays bass in the psychedelic rock band the Coo Coo Birds and produces books of poetry.
NRVS LVRS (pronounced "Nervous Lovers") is the dreamy darkwave project of husband & wife duo Andrew Gomez and Bevin Fernandez. While citing acts like Massive Attack, Can, and Kate Bush as influences, their music flirts with caustic electro-pop with tones of Fernandez' soaring vocals complimented by Gomez' low crooning glide over layers of ominous synths, driving guitar, and precise percussion to create compelling electronic soundscapes.
Sponsors:
Lagniappe Peak /City of Napa/Napa Valley Unified School District/Napa County Office of Education/Bell Products
Doors: 7 pm / Show: 8 pm - 11 pm
Tickets: $10 presale, $12 door
General Admission / Standing room with limited seating first come basis
Mad Bad Racket
https://www.facebook.com/madbadracket/
https://madbadracket.bandcamp.com/releases
Gray Tolhurst and The Early Nineties
https://www.facebook.com/graytolhurst/
https://graytolhurst.bandcamp.com/album/gray-tolhurst-2
NRVS LVRS
https://www.facebook.com/nrvslvrs/
https://nrvslvrs.bandcamp.com/album/electric-dread
JaM Cellars Ballroom at Margrit Mondavi Theatre is UPSTAIRS in the historic Napa Valley Opera House in Downtown Napa
GENERAL ADMISSION & STANDING
Each person does require a ticket for entry. We welcome ages 8+ with children under 16 accompanied by an adult.
No Refunds. No professional cameras or outside food and drink.
Due to the historic nature of the Ballroom, there are no bathrooms located upstairs. Facilities are located downstairs through the Blue Note Club and are accessible via stairs or the elevator.
Ear Plugs are available for free at the Box Office
Any special needs or accommodation requests, please call our Box Office.
Thank you, and we look forward to seeing you at the JaM Cellars Ballroom!
1030 Main Street, Napa CA 94559
Box Office: 707.880.2300 (Tues-Sat, 3:30-9:30 pm, Sun 1 hr before doors)

Processing your request, please wait....