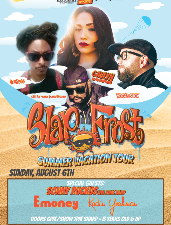 Backseat Productions, SIBBZ.com, LoCal Productions
Slap Frost Summer Vacation Feat: Gavlyn,Z-Man,True Justice, Vocab Slick Sonny Ru
Sunday, Aug 06, 2017 7:00 PM PDT (6:00 PM Doors)
JaM Cellars Ballroom at Margrit Mondavi Theatre, Napa, CA
8 years and over
Purchase Tickets
Please call 707.880.2300 (3:30-9:30 pm) to reach venue Box Office to check availability as tickets may be available. Club Restaurant opens at 5 pm. Doors at 5 for 7 pm set, Doors at 9 for 9:30 set.
Additional Information
8.4.17 MOVED TO DOWNSTAIRS VENUE. SEATING AVAILABLE.
Sonny Ruckus 7:00pm-7:45pm
DJ Break/Band Strike 7:45pm-8:00pm
E-Money 8:00pm-8:20pm
DJ True Justice/Vocab Slick/Z-Man 8:25pm-9:40pm
Kadin Yeahmon 9:45pm-10:15pm
Gavlyn w/DJ Dubplates 10:20pm-11:05pm
After braving Old Man Winter for 3 years in a row, Slap Frost ( Jack Frost's Great-Great Grandson ) has demanded an outing during the warmer months of the calendar. With his popularity growing each year, we are are proud to present The Slap Frost Summer Vacation Tour. Joining this incredible character will be Southern California's rising star: Gavlyn who is fresh of her European Tour. Special Guests will include Napa's own Kadin Yeahmon, SF's Z-Man with The Bay Area's Most Exciting DJ: True Justice, Vocab Slick aka The North Bay Representa, and Introducing Oakland's Own Premier Funk Band: Sonny Ruckus.
Gavlyn:
FB: https://www.facebook.com/GAVLYNMUSIC/
Twitter: @Gavlyn_818
IG: @gavlynnn
Z-Man
FB: https://www.facebook.com/zmainey.zdazzle
Twitter: @zmantheoriginal
IG: @zdazzler
DJ True Justice
FB: https://www.facebook.com/djtruejustice
Twitter: @djtruejustice
IG: @djtruejustice
Vocab Slick:
FB: https://www.facebook.com/vocabslick
Twitter: @vocabslick
IG: @vocabslick
Kadin Yeahmon
FB: https://www.facebook.com/kadinyeahmonn/
Twitter: @KadinYeahmon
IG: @kadin_yeahmon
Sonny Ruckus
www.soundcloud.com/sonnyruckus
FB: www.facebook.com/sonnyruckus
IG: @sonnyruckus
BLUE NOTE NAPA
Blue Note Napa is located on the first floor of the Historic Napa Valley Opera House at First & Main. We are an intimate 150-seat jazz club.
"Sapphire" Booth Seating: 4, 5- 6 persons
"Royal Blue" Center Table Seating : Seating in premier center table areas in front of stage
Standard Side Table Seating : Seating in side table areas left and right of center section.
Bar Area Ticket Seating: For Ages 21+ Great View!!
Ticket prices and fees are the same on line, over the phone or in person at the Box Office.
A percentage of all fees goes to the preservatioin of the Napa Valley Opera House Bldg.

Processing your request, please wait....