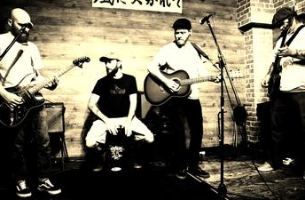 Blue Note Napa Presents
FREE SHOW! The Restless Sons
Thursday, May 18, 2017 9:30 PM PDT (9:00 PM Doors)
Blue Note Napa, Napa, CA
8 years and over
Purchase Tickets
Please call 707.880.2300 (3:30-9:30 pm) to reach venue Box Office to check availability as tickets may be available. Club Restaurant opens at 5 pm. Doors at 5 for 7 pm set, Doors at 9 for 9:30 set.
Additional Information
Lead Vox/Rhythm Guitar- Darren "D-Va" O'Brien
Lead Guitar/Backup Vox- Sean "Bucky" O'Brien
Percussion/Backup Vox- Bryan "Brandon" Goodrich
Bass Guitar- Neil "Boom-Boom" Thollander
The Restless Sons, a modern, punk-influenced, rock-and-roll Americana band from the small Napa Valley town of Calistoga, CA.
The formation of The Restless Sons came in 2011 after singer/songwriter Darren O'Brien decided it was time to bring his songs some new life. Darren had spent the past few years playing solo acoustic shows in between his obligations to multiple other local acts but as the years passed by so did the other bands and he found himself alone with only his solo act to perform. The songs were simple upbeat tunes with a touch of folky storytelling and a splash of punk rock energy all heavily strummed out on his trusty acoustic but with melodies flying through his head he knew they were meant for so much more. It was time to add a band to fill that void. The Restless Sons have stayed busy, putting out 3 EPs themselves ("A Glimpse of Hope" 2013, "There's No Place Like Home" 2014, and "A Long Story Short" 2016.
BLUE NOTE NAPA
Blue Note Napa is located on the first floor of the Historic Napa Valley Opera House at First & Main. We are an intimate 150-seat jazz club and restaurant, where you can enjoy performances of world renowned and local Bay Area artists alike. We offer a full menu with Wine Country Comfort market-driven cuisine, as well as an elegant wine and cocktail list. Enjoy fantastic sharing plates, desserts and wonderful main courses while you take in the show.
All ticket prices are based on per person.
"Sapphire" Booth Seating:
Booth seating for parties of 4, 5- 6 persons: Our premier level of seating! Booths are only available as tables of four, five or six and are not available as singles or pairs. Booths are 1st come, 1st seated. You will be seated when you arrive. Each ticket is your reservation. (seating is dark blue color on map)
"Royal Blue" Center Table Seating :
Seating in premier center table areas in front of stage: Pairs are seated across from each other. 1st come, 1st seated in center section. Each ticket is your reservation. (seating is light blue color on map)
Standard Side Table Seating :
Seating in side table areas left and right of center section: Pairs are seated across from each other. 1st come, 1st seated. Ea ticket is your reservation. (table seating is yellow on map)
Bar Area Ticket Seating: For Ages 21+
Great View!! Bar Chairs with cushioned seat and back are 1st come, 1st seated. Dinner is also served at the bar. Ea ticket is your reservation. (bar area is pink on map). Only 21+ can sit at Bar.
Dinner served in all seating areas.
Ticket prices and fees are the same on line, over the phone or in person at the Box Office.
A percentage of all fees goes to the preservatioin of the Napa Valley Opera House Bldg.

Processing your request, please wait....