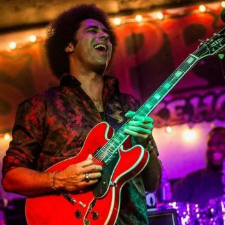 Shank Hall
Selwyn Birchwood
Thursday, Jul 06, 2017 8:00 PM CDT
Shank Hall, Milwaukee, WI
21 years and over
Purchase Tickets
This event is sold out. Information for other Shank Hall shows available at shankhall.com. Also, find more on facebook and twitter.
Additional Information
"A remarkable contemporary bluesman...a powerhouse young guitarist and soulful vocalist. A major player...highly recommended." –Rolling Stone
"Selwyn Birchwood is a master storyteller—both lyrically and musically. He's an impressive, hard-crunching, modern blues guitarist. His fretwork is high-energy, raw and vivid...knife-edged leads and roadhouse-rattling grooves. He is graced with a depth and maturity that would be impressive in a grizzled veteran, let alone a fresh-faced young man." –Living Blues
With his fiery guitar and lap steel playing, his trailblazing, instantly memorable songs and gritty, unvarnished vocals, Selwyn Birchwood is among the most extraordinary young stars in the blues. His deep familiarity with blues tradition allows him to bust the genre wide open, adding new sounds, colors and textures, all delivered with a revival tent preacher's fervor and a natural storyteller's charisma. Since the 2014 release of his Alligator Records debut, Don't Call No Ambulance, Birchwood's meteoric rise from playing small Florida clubs to headlining international festival stages is nothing short of phenomenal, as he continues to set the contemporary blues world on fire. The album received the Blues Music Award and Living Blues Critics' Award for Best Debut Album Of 2014, and he won the 2015 Blues Blast Rising Star Award. Selwyn and his band have crisscrossed the U.S. and Europe repeatedly, delivering unforgettable live performances. With his new album, Pick Your Poison, Birchwood, along with his band—saxophonist Regi Oliver, bassist Huff Wright and drummer Courtney "Big Love" Girlie—takes a major step forward, crafting visionary blues for a new generation of forward-looking fans.
...read more www.shankhall.com


Processing your request, please wait....