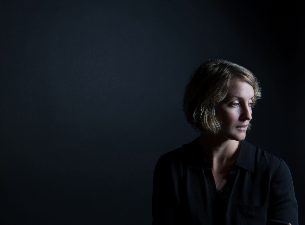 Follow us on Twitter @tractortavern
KBCS Presents: Joan Shelley w/ Whisperer and Guests
Wednesday, Jul 19, 2017 9:00 PM PDT (8:00 PM Doors)
Tractor, Seattle, WA
21 years and over
Purchase Tickets
We're sorry, there are no tickets currently available through TicketWeb.
Additional Information
The stunning, self-titled fourth album from the Kentucky singer, songwriter, and guitarist Joan Shelley began, surprisingly, with a fiddle.
In the summer of 2014, Shelley fell for "Hog of the Forsaken," a bowed rollick at the end of Michael Hurley's wayward folk circus, Long Journey, then nearly forty years old. Hurley's voice, it seemed to Shelley, clung to the fiddle's melody, dipping where it dipped and climbing where it climbed. This was a small, significant revelation, prompting the guitarist to trade temporarily six strings for four and, as she puts it, "try to play like Michael." That is, she wanted to sing what she played, to play what she sang. She tried it, for a spell, with the fiddle.
"Turns out, I wasn't very good at fiddle," remembers Shelley, chuckling. "But I took that idea back to the guitar and tried that same method. I did it as a game to make these songs, a way to find another access point."
But that wasn't the end of the trials. After collaborating and touring with ace guitarist Nathan Salsburg for so many years, Shelley decided to put her entire guitar approach to the test, too. Each day, she would twist and turn into a different tuning, letting her fingers fumble along the strings until the start of a tune began to emerge.
It's fitting that the set is self-titled. These are, after all, Shelley's most assured and complete thoughts to date, with lyrics as subtle and sensitive as her peerless voice and a band that offers support through restraint and nuance.
Shelley's music has never been experimental, at least in some bleeding- edge sense of the word. And she's comfortable with that, proud of the fact that her simple songs are attempts to express complex emotion and address difficult question about life, love, lust, and existence itself. During "The Push and Pull," for instance, she precisely captures the emotional tug of war as two people struggle to codify a relationship, her voice perking up and slinking down to illustrate the idea. For "Go Wild," she wrestles with principles of independence and dependence, forgiveness and freedom, her tone luxuriating inside the waltz as though this were a permanent state of being. These are classic ideas, rendered brilliantly anew.
But in their own personal way, these songs are experimental and risky, built with methods that pushed Shelley out of the comfort zone she's established on a string of records defined by a mesmerizing sort of grace and clarity. The shifts are not so much major as they are marked, suggestive of the same steady curiosity and rumination that you find in the pastoral pining of "If the Storms Never Came" or the subtle romance of "Even Though." From genesis through gestation and on to execution, then, these songs document transitions to destinations unknown.
"I don't have a concept, and I don't know the meaning until much later. Whatever I am soaking up or absorbing from the world, there will be songs that reflect all those thoughts," Shelley says. "I keep my songwriting alive and sustainable by trying to be honest about how it came out—these are all its jagged edges, and that's what it is to be human."


Processing your request, please wait....