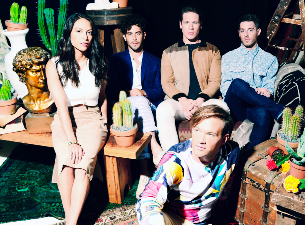 Purchase Tickets
Thank you for your interest in this SOLD OUT event! Please call venue Box Office 707.880.2300 (3:30-9:30, Tues-Sun) OR log back on here to check availability in case any other tickets become available
Additional Information
St. Lucia is BACK with an infectious new single "Dancing On Glass" and a brand new album Matter. And with those comes a series of North American dates, following up on the band's sold out fall 2014 headline tour.
St. Lucia's 2013 debut LP When The Night earned raves everywhere from Entertainment Weekly ("an absolute smash") to Elle ("we have an obsession for this group") to Billboard ("essential listening"). The last two years have also seen the band touring with the likes of Ellie Goulding, Empire Of The Sun, Charli XCX, Foster The People, performed at Coachella and Lollapalooza, and appeared on Jimmy Kimmel Live!, and Late Night With Seth Meyers.
~ For all the climates and cities that bring people together, the boys in A R I Z O N A came together as a trio in an apartment in Boston, their makeshift studio the counterweight to the lofty halls of East Coast music scholarship. In a string of infinite sessions during their time at both Berklee College of Music and Emerson College, Nate (guitar) hopped on a session with David (keys) and Zach (vocals), and all the moving pieces came together in a way that would reincarnate itself in many different fashions before eventually becoming the group now known as "A R I Z O N A".
Any additional information needed find it here.
http://www.bottlerocknapavalley.com/lineup-schedule/2017-artists/
JaM Cellars Ballroom / Margrit Mondavi Theatre: UPSTAIRS
General Admission and standing with limited seating upstairs in the balcony
Each person does require a ticket for entry. We welcome ages 8+ with children under 16 accompanied by an adult. No Babes in Arms.
No Refunds. No professional cameras or outside food and drink.
There is no dining available in the Ballroom, but there is a Bar available for drink purchases. Patrons attending a show upstairs in the Ballroom are welcome to dine in the restaurant starting at 5 pm if available.
Due to the historic nature of the Ballroom, there are no bathrooms located upstairs. Facilities are located downstairs around the Blue Note Club and are accessible via stairs or the elevator.
Any special needs or accommodation requests, please call our Box Office.
Thank you and we look forward to seeing you!
The JaM Cellars Ballroom in the Margrit Mondavi Theatre is located UPSTAIRS in the historic Napa Valley Opera House
1030 Main Street, Napa CA 94559 / Box Office: 707.880.2300 (Tues-Sun, 3:30-9:30 pm)

Processing your request, please wait....