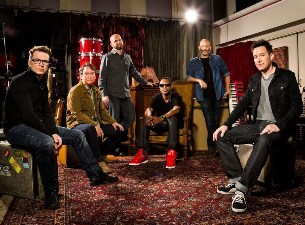 Purchase Tickets
Please call 707.880.2300 (3:30-9:30 pm) to reach venue Box Office to check availability as tickets may be available.
Additional Information
It's been more than 20 years since Ben Ellman, Robert Mercurio, Stanton Moore, Jeff Raines and Rich Vogel began exploring the seemingly limitless musical possibilities born out of their work together as Galactic. Since then, the seminal New Orleans band has consistently pushed artistic boundaries on the road and in the studio, approaching their music with open ears and drawing inspiration as much from the sounds bubbling up from their city's streets as they do from each other.
A key part of that creative spark comes from the teamwork of Mercurio and Ellman, whose ever-evolving production and arranging skills helped usher the band into a new phase of studio work beginning with the loop-centric "Ruckus" in 2007. A series of albums focused around specific concepts like Carnival followed, as did collaborations with guests hailing from worlds outside the one Galactic calls its own.
On "Into the Deep," the band members look within themselves instead, drawing inspiration from people and ideas that have long been close to their hearts – and, in turn, close to the development of their unique sound. Shot through with soul, funk, blues and rock, the result is an organic riff on elements of Galactic's past, filtered through the lens of where they're headed in 2015.
"I see this album as a kind of culmination of all of our collaborations or experiences, from [trombonist] Corey Henry to the people we met on the road, touring," says Mercurio, referencing Ellman's first full-time gig in New Orleans, which kicked off when Henry hired him into the Little Rascals Brass Band in 1989.
The album, Ellman says "is all about people. It's these connections we've made over 20 years. They're people in our orbit that have come into our little world and affected us in some way."
It's also about how the individual musicians within Galactic have grown over time. When it comes to trying new approaches as players, producers, songwriters and arrangers, Ellman muses, "it's an evolution."
JaM Cellars Ballroom at Margrit Mondavi Theatre UPSTAIRS in the Napa Valley Opera House
General Admission and standing with limited seating upstairs in the balcony
Each person does require a ticket for entry. We welcome ages 8+ with children under 16 accompanied by an adult.
No Refunds. No professional cameras or outside food and drink.
There is no dining available in the Ballroom, but there is a Bar available for drink purchases. Patrons attending a show upstairs in the Ballroom are welcome to dine in the restaurant starting at 5 pm if the show(s) downstairs is not Sold Out or if there is seating available.
Due to the historic nature of the Ballroom, there are no bathrooms located upstairs. Facilities are located downstairs around the Blue Note Club and are accessible via back stairs or the elevator.
Any special needs or accommodation requests, please call our Box Office.
Thank you and we look forward to seeing you!
JaM Cellars Ballroom in the Margrit Mondavi Theatre is located UPSTAIRS in the historic Napa Valley Opera House
1030 Main Street, Napa CA 94559
Box Office: 707.880.2300 (Tues-Sun, 3:30-9:30 pm)

Processing your request, please wait....