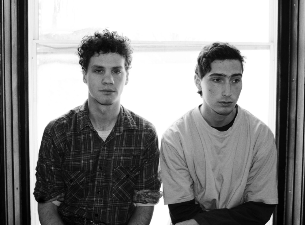 Thalia Hall
Whitney


with

Kevin Devine

-

Official Lollapalooza Aftershow presented by C3, Thalia Hall & WXRT

Thursday, Aug 03, 2017 11:00 PM CDT (10:00 PM Doors)
Thalia Hall, Chicago, IL
17 years and over
Purchase Tickets
Advance tickets are sold out. We do not advise purchasing tickets from any 3rd party sites, as we cannot guarantee their validity. We will have a limited number of tickets available when doors open.
Additional Information
Whitney make casually melancholic music that combines the wounded drawl of Townes Van Zandt, the rambunctious energy of Jim Ford, the stoned affability of Bobby Charles, the American otherworldliness of The Band, and the slack groove of early Pavement. Their debut, Light Upon the Lake, is due in June on Secretly Canadian, and it marks the culmination of a short, but incredibly intense, creative period for the band. To say that Whitney is more than the sum of its parts would be a criminal understatement. Formed from the core of guitarist Max Kakacek and singing drummer Julien Ehrlich, the band itself is something bigger, something visionary, something neither of them could have accomplished alone. The band itself is something bigger, something visionary, something neither of them could have accomplished alone.
Whitney was born from a series of laidback early-morning songwriting sessions during one of the harshest winters in Chicago history, after Ehrlich and Kakacek reconnected - first as roommates splitting rent in a small Chicago apartment and later as musical collaborators passing the guitar and the lyrics sheet back and forth. The duo wrote frankly about the break-ups they were enduring and the breakdowns they were trying to avoid. Each served as the other's most brutal critic and most sympathetic confessor, a sounding board for the hard truths that were finding their way into new songs like "No Woman" and "Follow," a eulogy for Ehrlich's grandfather.
The analog recording methods, the same as used by their forebearers, allowed them to concentrate on the songs themselves and create moments that would be powerful and unrepeatable. "We didn't have enough tracks to record ten takes of a guitar part and choose the best one later. Whatever we put down is all we had. That really makes you as a musician focus on the performance." The sessions were loose, with room for improvisation and new ideas, as the band expanded from that central duo into a dynamic sextet (septet if you count their trusty soundman). And that's what you hear — Whitney is the sound of that songwriting duo expanding their group and delivering the sound of a band at their freest, their loosest, their giddiest.
Classic and modern at the same time, they revel in concrete details, evocative turns of phrase, and thorny emotions that don't have exact names. These ten songs on Light Upon the Lake sound like they could have been written at any time in the last fifty years. Ehrlich and Kakacek emerge as imaginative and insightful songwriting partners, impressive in their scope and restraint as they mold classic rock lyricism into new and personal shapes without sound revivalist or retro. "There's a lot of true feeling behind these songs," says Ehrlich. "We wanted them to have a part of our personalities in them. We wanted the songs to have soul."


Processing your request, please wait....