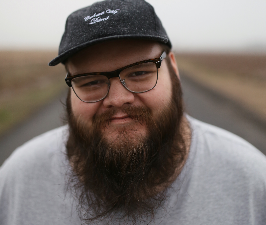 Follow us on Twitter @tractortavern
KEXP Presents: John Moreland with Christian Lee Hutson
Tuesday, Aug 08, 2017 8:00 PM PDT (7:00 PM Doors)
Tractor, Seattle, WA
21 years and over
Purchase Tickets
We're sorry, there are no tickets currently available through TicketWeb.
Additional Information
Some days, being John Moreland has to hurt. As others bury experiences and stifle regrets, Moreland pokes old wounds until you're sure they've got to be bleeding again. It's painful. But in Moreland's care, it's also breathtakingly beautiful. With the release of his highly anticipated third solo album High on Tulsa Heat (out April 21st via Thirty Tigers), he offers another round of the lyrics-first, gorgeously plaintive songs that have earned him devoted listeners across the country.
Moreland started writing when he was 10 years old, the same year his family moved from Kentucky, to Tulsa, Oklahoma, where he still lives today. He turns 30 this year, but he's been slinging songs for more than half his life. He started fronting local punk and hardcore bands in high school. After graduation, he had an epiphany. "I'd just overexposed myself to punk and hardcore to the point that it just didn't do anything for me anymore," he says. The remedy? He ditched his music for his dad's: CCR, Neil Young, Tom Petty, Steve Earle.
"I think what appealed to me about it was lyrics," he says. "In hardcore, there might be great lyrics in a song but you have to read them off a piece of paper to know it. I was 19 in 2004, and Steve Earle had put out 'The Revolution Starts Now,' and I remember hearing the song 'Rich Man's War' and totally feeling like somebody just punched me in the chest."
Moreland's been chasing the chest punch ever since, composing pointedly and prodigiously. "I've always written to make myself feel better, I think," he says. "It's my way of figuring stuff out — figuring out where I stand. You can't do that without emotion. You can't do that insincerely."
When Moreland released In the Throes in the June of 2013, the album didn't just charm listeners — it stunned them. American Songwriter proclaimed that "[t]hose not familiar with the Oklahoma City singer-songwriter should remedy that pronto," while No Depression declared the collection "isn't so much songwriting as alchemy with words and music." MSNBC host Rachel Maddow heard his songs and joined the chorus, tweeting: "If the American music business made any sense, guys like John Moreland would be household names."
As word continued to spread and Moreland played more and more shows, a pattern began to emerge: his songs hit listeners hard. While his precise, evocative lyrics often get the credit, his voice — a scritchy-scratch baritone capable of soul-shouting but especially potent in its subdued default register — ensures his lines linger.
"I got so used to playing in bars where you're just kind of in a corner," he says. "You're just background music, and nobody gives a fuck about you. It was so soul sucking. I would try to sing in a way that would get people's attention."For Moreland, that didn't mean screaming or gimmicks. "If you just sing it like you mean it — like so hard that people can't ignore it…" He trails off for a second, then concludes: "That's what I was trying to do." These days when Moreland performs, rooms ordinarily buzzing with drunken chatter and clanging glasses fall silent


Processing your request, please wait....