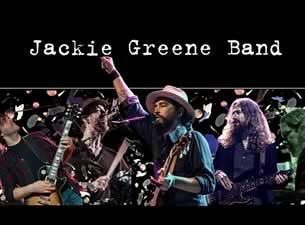 Jackie Green
Wednesday, Jun 14, 2017 8:00 PM PDT (6:00 PM Doors)
The Coach House, San Juan Capistrano, CA

Purchase Tickets
We're sorry, there are no tickets currently available through TicketWeb.
Additional Information
"We live in such a fast-paced, hectic environment, I wanted to make a record that would invite people to step back and take their time to listen," Jackie Greene says of Back to Birth, his first album in five years. "I wanted to make a record that would reward people who are willing to sit down and give it a couple of serious listens."

Back to Birth - Greene's seventh album and his Yep Roc Records debut - is more than worthy of some serious attention. The 11-song set showcases the multitalented artist's uncanny knack for synthesizing his deep affinity for American roots styles into timeless, personally-charged music. Armed with a persuasive voice, a vivid songwriting skill and an instinctive mastery of several instruments, Greene has carved out a unique musical niche, and the album marks another creative landmark in his already compelling body of work.

Produced by Los Lobos member and frequent Greene collaborator Steve Berlin, Back to Birth underlines Greene's remarkable evolution as a performer and writer. With such new compositions as "Silver Lining," "Trust Somebody," "Now I Can See For Miles," and the stirring title track, the artist's distinctive melodic sensibility is matched with thoughtful, introspective lyrics that confront some profound philosophical issues with plainspoken eloquence.

"Musically, this album is kind of a return to the simplicity of the records that I started with, although I feel like I have a much better idea of what I'm doing now," Greene observes. "I think the lyrics are the part that have really evolved. A lot of these songs explore the notion of a cyclical existence, and the sense that life goes in a circle. I want the songs to come from a place that's meaningful to me, but I also want to keep them as simple and direct as I can. I look at old blues songs, or Hank Williams songs, and they're so simple and direct but they can convey some pretty deep ideas."
The musical passion and creative integrity that drive Back to Birth have been constants in Jackie Greene's musical life from the start. While growing up in Northern California, he taught himself to play piano and guitar. His musical reference points shifted radically when, at the age of 14, he ran across a cache of his parents' vintage rock, country, blues and R&B LPs in the family's basement.
Although he's already racked up a multitude of impressive musical achievements, Greene isn't one to look back. Instead, he continues to look to the future - and looks forward to getting back on the road to bring Back to Birth's soulful songcraft to the loyal, wildly diverse fan base that he's built through talent, vision and hard work.

"I still plan on making a lot of different kinds of records in the future, but I can't tell you what they're going to sound like, because I really have no idea," he asserts. "All I can do is write songs and make music as honestly as I can. That's what I believe people appreciate about what I do. They trust me to be honest with them, and I'd never want to abuse that trust."


Processing your request, please wait....