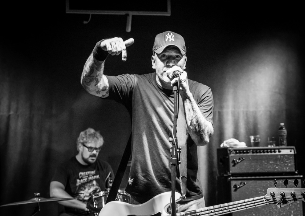 CJ RAMONE w/ Big Eyes, Toxic Kid and The Bad Signs
Tuesday, May 02, 2017 8:30 PM PDT (8:00 PM Doors)
Dante's, Portland, OR
21 years and over
Purchase Tickets
We're sorry, there are no tickets currently available through TicketWeb.
Additional Information
Out of the seven billion or so people on the planet, only seven men have been lucky enough to be gifted with the Ramone surname. As of 2017, four have already headed off to that great gig in the sky. Thankfully, CJ Ramone has no plans to leave any time soon. He expertly stepped in for Dee Dee in 1989 and played with the legendary punk quartet until their 1996 breakup. He sang lead on "Strength To Endure"; he wrote two tracks for the band's farewell album, ¡Adios Amigos!; he was onstage for their epic final show, delivering those iconic "1-2-3-4!" shouts and rubbing shoulders onstage with Eddie Vedder, Tim Armstrong and Lemmy. CJ Ramone is as important a part of punk rock history as anyone else you can think of, and the best part is he's just getting started.
"When you're in the Ramones family, you're a Ramone for life," CJ says. "Richie Ramone still has it; Marky Ramone still has it; hell, Johnny Ramone's wife changed her last name to Ramone. I absolutely feel obliged to keep the legacy going. I 100 percent do. I feel it. I don't sit down and try to write Ramones songs, but I was a huge fan since I was a kid. I played in the band for seven years. I'm undeniably influenced hugely by them. I've heard people say what I do sounds like the Ramones. Of course it does! How could it not?"
Exhibit A: CJ's brand new solo album, American Beauty. It's a 12-song effort that crackles with the spirit of '77 (the surefire pit-starter "Yeah Yeah Yeah") and has a sense of humor about it ("Girlfriend In A Graveyard") while being unafraid to slow things down (the punk-rock prom vibe of "Before The Lights Go Out") and throw in a few sonic curveballs to boot. The songs sound so well developed that it's a bit of a shock to learn how the whole album came together. "I actually had a whole batch of songs for this record that I had been writing over the past couple of years, but things changed so much in such a short period of time, and when I sat down and listened to the songs, they seemed to be irrelevant to how I was thinking now," CJ admits. "I wrote this entire record in just two weeks, sitting in my basement. That is very unusual for me. Usually I'm hyper-prepared for everything. It totally goes against everything I've ever known. I was trained by Johnny Ramone—he was the ultimate in 'rehearse, rehearse, rehearse; be prepared.' My work ethic comes from that. This is really an oddity for me."
The breakneck pace of writing led to an even more efficient recording session, when CJ and his live band—guitarists Steve Soto and Dan Root (both also of the Adolescents) and drummer Pete Sosa (also of Street Dogs)—hunkered down at Buzzbomb Studios in Orange, California, with producer Paul Miner (H2O, New Found Glory) for a grand total of 11 days. "That's the beauty of working with pros and veterans," CJ remarks. "It really streamlines everything. Dan and Steve are really good singers and guitarists, and Pete is such a solid drummer. Paul is an exceptional engineer, too: He knows how to pace a project so you never lose the energy you start out with."


Processing your request, please wait....