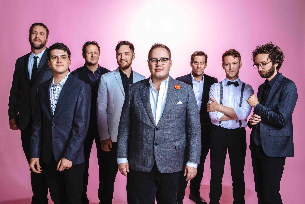 Varsity Theatre
St. Paul & The Broken Bones


plus

Sweet Crude

Friday, Jun 02, 2017 9:00 PM CDT (8:00 PM Doors)
Varsity Theatre, Baton Rouge, LA
18 years and over
Purchase Tickets
This show is SOLD OUT! The Varsity Theatre thanks you for supporting live music in Baton Rouge. We are sorry for any inconvenience that this may cause but encourage you to find another show to attend!
Additional Information
Sea of Noise, the second full-length album by St. Paul and the Broken Bones, marks a quantum leap in sound and style for the high-voltage Birmingham, Alabama-based band.
Produced by Paul Butler and recorded at Nashville's Sound Emporium, the group's sophomore effort features an expanded eight-piece lineup of the widely praised soul-based rock unit. Longtime members Paul Janeway (lead vocals), Jesse Phillips (bass, guitar), Browan Lollar (guitars), Andrew Lee (drums), Al Gamble (keyboards), and Allen Branstetter (trumpet) are joined by Jason Mingledorff (saxophone, clarinet, flute), and Chad Fisher (trombone).
The collection of new original songs is the group's first release on RECORDS, a joint venture of SONGS Publishing, winner of ASCAP's 2016 independent publisher of the year award, and veteran label executive Barry Weiss.
Sea of Noise is a successor to the Broken Bones' 2013 debut album Half the City, which introduced the group's blazing mating of '60s soul fire – daubed with latter-day influences like Sly Stone, David Bowie, and Prince — to Janeway's impassioned singing and writing. The new album witnesses a deepening and broadening of the unit's musical reach and lyrical concerns.
"It felt like it happened organically," Janeway says of the band's development. "With the last record, it was like doing things with your hair on fire – going in, recording it live. There's a sense of urgency to having a record like that. We were only a band for about five months at that point. I didn't know my voice – I'd never done this professionally. I was just learning more nuance, and about carrying a melody. You don't have to go for it 100% all the time. You can draw people in by giving and taking."
Janeway says that he and his close musical associate Phillips began to ponder the direction of the band's second album a year and a half ago. "If we had been forced to go into a studio a year and a half ago, we probably would have done a better version of Half the City," he says. "There would have been nothing wrong with that. But we started evolving, or changing."
Work began in earnest during last year's Coachella festival in California: "We rented a house in San Bernardino Valley National Park. The week in between the two weekends, we really started to hash things out. Then we rented out a very hot warehouse in Birmingham where we could write. And me and Jesse and a few of us would send stuff back and forth via Dropbox. That gave me the ability to work on harmonies on the vocals. I wanted to take it up a notch, in all realms."
Looking to such inspirations as Tom Waits and Nick Cave, Janeway was intent on lifting his game as a songwriter on material for the second album. "I'm married to a woman with a masters in literature, and I can't show her lyrics unless I'm pretty proud of 'em," he says. "I had to sit and think about what I'm saying – what do I want to say, is there anything to say?


Processing your request, please wait....