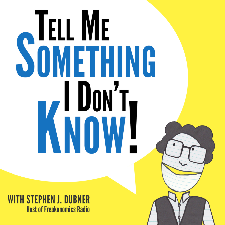 Thalia Hall
Tell Me Something I Don't Know welcomed by WBEZ
Wednesday, Apr 05, 2017 8:00 PM CDT (7:00 PM Doors)
Thalia Hall, Chicago, IL

Purchase Tickets
Tickets are no longer available online, but you can purchase them at the door for tonight's event.
Additional Information
"Rivalry"
University of Chicago economist and Freakonomics co-author Steve Levitt
Author Scott Turow
Cook County commissioner Bridget Gainer
Fact-checking by WBEZ's Tricia Bobeda
Tell Me Something I Don't Know is a live game show and podcast hosted by Stephen J. Dubner, co-author of the Freakonomics books and host of Freakonomics Radio. He has always had a mission: to tell you the things you thought you knew but didn't; and things you never thought you wanted to know, but do. Now, he has a new way of doing just that. TMSIDK is still journalism, still factual — but disguised in the most entertaining, unexpected, and occasionally ridiculous conversation you're likely to hear.
Three celebrity panelists listen as contestants come on stage before a live audience and try to wow them with a fascinating fact, a historical wrinkle, a new line of research — anything, really, as long as it's interesting, useful and true (or at least true-ish). There's a real-time human fact-checker on hand to filter out the bull. The panel — an eclectic mix of comedians, brainiacs, and other high achievers — poke and prod the contestants, and ultimately choose a winner.


Processing your request, please wait....