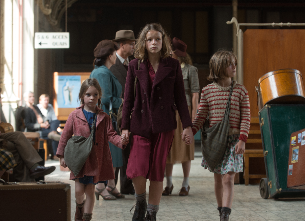 Purchase Tickets
This screening is currently sold out. You can join the waitlist by arriving at the theater 1 hour prior to showtime. For the latest on added screenings, sign up for our email list at nyicff.org.
Additional Information
NEW YORK PREMIERE — Based on a memoir by Fanny Ben-Ami, Fanny's Journey is an incredible tale of survival and friendship in the face of the adversity of World War II. Fanny has been sent with her siblings to a foster home in Italy for safety. But when the threat of Nazi persecution expands, the quick-witted 11-year-old must lead a group of children across the Swiss border. Negotiating false names, alternately trustworthy and treacherous adults, and life-threatening situations, Fanny remains determined in her role. With awe-inspiring shots of the European countryside as a backdrop, the film delicately shows the hardship of history through the eyes of children, reminding us that everyday joys and tight bonds can help overcome the most difficult obstacles. In French with English subtitles
Note: Film contains intense moments depicting the reality of World War II Europe.

Processing your request, please wait....