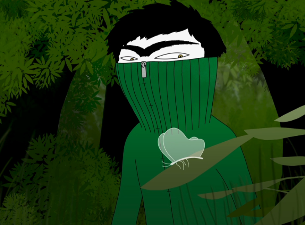 ages 10+
Heebie Jeebies Shorts
Sunday, Mar 12, 2017 4:00 PM EDT
Cinépolis Chelsea, New York, NY

Purchase Tickets
This screening is currently sold out. You can join the waitlist by arriving at the theater 1 hour prior to showtime. For the latest on added screenings, sign up for our email list at nyicff.org.
Additional Information
For ages 10+ — Slightly spine-chilling and oddly eye-opening, the shorts in Heebie Jeebies will inspire you to see things from a whole new perspective!
Lineup includes:
BLIND VAYSHA
Canada – NYC PREMIERE
Animation, Theodore Ushev, 2016, 8 min
2017 Oscar® nominee! A split screen imaginatively relays the dilemma of Vaysha, a girl who sees the future in one eye and the past in the other.
BØYGEN
Norway
Animation, Kristian Pedersen, 2016, 6 min
Norwegian mythology, slinking serpents, and shape-shifting anxieties.
CHATEAU DE SABLE
France – NEW YORK PREMIERE
Animation, Quentin Deleau, Lucie Foncelle, Maxime Goudal, Julien Paris, & Sylvain Robert, 2015, 6 min
In the middle of the desert, soldiers made of sand protect a marvelous pearl from a huge creature trying to steal it in this epic, Ray Harryhausen-inspired CGI battle.
EINSTEIN-ROSEN
Spain – NEW YORK PREMIERE
Live Action, Olga Osorio, 2016, 9 min
Summer, 1982. Teo claims he has found the fabled Einstein-Rosen Bridge through space and time. His brother Óscar doesn't believe him…at least not for now.
GLOVE
USA
Animation, Alexa Lim Haas & Bernardo Britto, 2015, 5 min
The surprising journey of an astronaut's glove that traveled from Delaware to the depths of space in 1965—and is likely still floating around today.
RUBIK
Germany – NEW YORK PREMIERE
Animation, Xenia Smirnov, 2016, 4 min
What would you do with the power to shake the world in your hands? Manipulations of this Rubik's cubes lead to manipulations of time and space.
THE INKSECT
Mexico – NEW YORK PREMIERE
Animation, Pablo Calvillo, 2016, 9 min
In the dark, dystopian world of The Inksect, freedom can only be harnessed from books. But can they be wrested from evil hands?
THE WILD BOAR
Germany/France/Hungary – NEW YORK PREMIERE
Animation, Bella Szederkényi, 2016, 14 min
From the urban jungle to the darkness of the woods, one feral kid searches for connection.
VOLTAIRE
Netherlands – NEW YORK PREMIERE
Animation, Jan Snoekx, 2015, 12 min
Weathervane rooster Voltaire pines for a life atop grand cathedrals, and things get more gothic than he ever imagined in this lightning-strikes-twice story.

Processing your request, please wait....