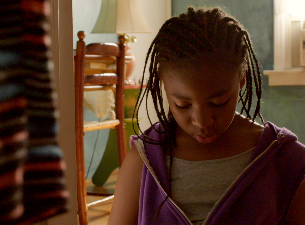 ages 10+
Girls' POV
Sunday, Mar 05, 2017 4:00 PM EST
SVA Theatre, New York City, NY

Purchase Tickets
We're sorry, there are no tickets currently available through TicketWeb.
Additional Information
For ages 10+ — Not just for girls! Female perspectives from around the world are front and center in our popular Girls' POV program.
Lineup includes:
AMELIA'S CLOSET
USA – WORLD PREMIERE
Live Action, Halima Lucas, 2016, 18 min
Amelia must clean out her head—and her closet—in order to rise above the bullies she faces.
THE BOOKMOBILE
USA
Animation, Julie Zammarchi, 2016, 3 min
At eight-years-old, Storm Reyes is already working full time as a migrant farm worker. When a bookmobile arrives, the wonders of the page open up new worlds and possibilities.
EVERYBODY ELSE IS TAKEN
New Zealand – WORLD PREMIERE
Live Action, Jessica Grace Smith, 2017, 14 min
Mika refuses to let gender define her place in one of the harshest environments on Earth: the playground.
FREE LIKE THE BIRDS
USA
Documentary, Paola Mendoza, 2016, 10 min
Six-year-old Sophie Cruz is a fierce fighter, whether mastering Tae Kwon Do or fighting for the rights of her undocumented parents.
G-AAAH
UK – US PREMIERE
Animation, Elizabeth Hobbs, 2016, 1 min
Created with an Underwood 315 typewriter, typographical flights of fancy tell the true story of typist-turned-aviator Amy Johnson.
L'AVIATRICE
France – US PREMIERE
Animation, Jacques Leyreloup, Victor Tolila, Perrine Renard, Laura Viver Canal, & Gaël Chauvet, 2016, 6 min
It's 1953 and Jacqueline Auriol, a French pilot, is about to go down in history along with her aircraft.
SING
Hungary – NEW YORK PREMIERE
Live Action, Kristof Deak, 2015, 25 min
2017 Oscar® nominee! Zsofi thinks she's found the key to fitting in at her new school when she joins its prestigious choir, but she must learn to honor her true voice in the award-winning Sing.
SOY YO
Denmark/Colombia
Live Action, Torben Kjelstrup, 2016, 3 min
Fearlessly navigating side-eye and mean girls, one city girl shows unbridled self-confidence and unbeatable dance moves.

Processing your request, please wait....