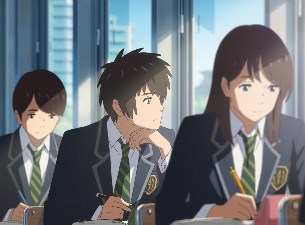 Opening Spotlight: Your Name.
Saturday, Feb 25, 2017 5:30 PM EST
SVA Theatre, New York City, NY

Purchase Tickets
This screening is currently sold out. You can join the waitlist by arriving at the theater 1 hour prior to showtime. For the latest on added screenings, sign up for our email list at nyicff.org.
Additional Information
EAST COAST PREMIERE ​— The day the stars fell, two lives changed forever. Total strangers Mitsuha and Taki live their teenage lives in separate cities until suddenly, for reasons unknown, they switch bodies. Beyond all of the physical awkwardness of their strange, new bodies, they must learn to navigate each other's social realms and habits as they continue to swap back and forth unexpectedly. Incredibly, they adapt and form an intense bond by leaving each other messages. But can they manipulate fate and the destructive forces of the heavens to meet in person? Written, directed, and animated by anime master Makoto Shinkai (NYICFF 2008's 5 Centimeters Per Second) in his stunningly detailed signature style, the film's world is one where teenagers are full of sensitivity in the best sense: open to every experience and exchange, and eager to truly know one another. In Japanese with English subtitles
To visit the official Your Name. website, click here.

Processing your request, please wait....