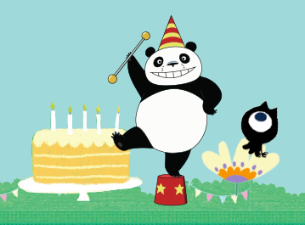 all ages
Birthday Shorts
Saturday, Feb 25, 2017 12:00 PM EST
SVA Theatre, New York City, NY

Purchase Tickets
We're sorry, there are no tickets currently available through TicketWeb.
Additional Information
For all ages — Celebrate our birthday in style! Join us for sweets, treats, and fun followed by a selection of new and classic shorts from our 20-year history: filled with stories of growth, change, transformation... and the occasional party hat!
Lineup includes:
ASTON'S PRESENTS
Sweden
Animation, Lotta and Uzi Geffenblad, 2012, 9 min
Eagerly awaiting his birthday, Aston is creating packages of anything he lays his hands on. Sometimes the real present is not the best one.
BIG BLOCK SINGSONG: COWS
Canada - US PREMIERE
Animation, Warren Brown, 2016, 2 min
Pumped up and on the loose, these Big Blocks are ready to raise the (barnyard) roof on this party!
BIG BLOCK SINGSONG: HAIR
Canada
Animation, Warren Brown, 2012, 2 min
A big block sings a quirky pop tune about all kinds of ways you can wear your hair including long hair, short hair and hair shaped like a boat.
BOTTLE
USA
Animation, Kirsten Lepore, 2010, 5 min
Animated on location at a beach, in the snow, and underwater, this stop-motion short details a transoceanic conversation between two characters via objects in a bottle.
GAME OVER
USA
Animation, PES, 2006, 1 min
From New York video artist, Pes, comes this brilliant stop-motion pastiche of classic video games, animated with everyday objects.
JUNCTION
Australia/Canada/Lithuania
Animation, Nathan Jurevicius, 2016, 7 min
The youngest of the fabled Face Changers is poised for fantastic change at the dawn of a brilliant new year.
MY BIG BROTHER
USA
Animation, Jason Rayner, 2014, 3 min
This film toys with the idea of a 'big brother' who is not just biologically older, but physically gigantic.
ON THE WING
Russia
Animation, Vera Myakisheva, 2012, 6 min
A small chicken lives with her large family, but she can't stop wondering how birds can fly. Her curiosity and desire for flight cause considerable problems for the family. But one day she succeeds. The only thing is she needs an umbrella.
WHAT IS MUSIC?
USA
Animation, Christian Robinson, 2013, 3 min
A short animation documenting children's understanding of music.
...AND MORE!

Processing your request, please wait....