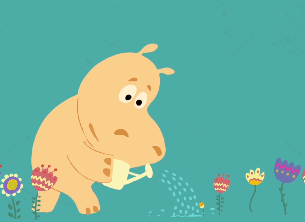 ages 3 to 6
Shorts for Tots
Saturday, Feb 25, 2017 10:00 AM EST
SVA Theatre, New York City, NY

Purchase Tickets
We're sorry, there are no tickets currently available through TicketWeb.
Additional Information
1MINUTE NATURE: SQUIRREL & HAMSTER
Netherlands – NORTH AMERICAN PREMIERE
Animated Documentary, Stefanie Visjager & Katinka Baehr, 2016, 1 min each
Can you train a squirrel? One young boy aims to try.
THE BIRDIE
Russia – NY PREMIERE
Animation,Yekaterina Filippova, 2015, 3 min
Once Birdie met a hippo. They became friends and built a lovely house together.
BRAZEY
USA – WORLD PREMIERE
Animation, Jared D. Weiss, 2016, 2 min
Delight in the freestyle moves of Brazey, playful shape-shifter and interpretive dancer.
CROCODILE
Germany – NY PREMIERE
Animation, Julia Ocker, 2016, 4 min
A relaxing evening on the couch turns into a noshing nuisance for one peckish croc.
EAGLE BLUE
UK
Animation, Will Rose, 2016, 4 min
A bold palette and a swaying beat bolster Eagle Blue high above the mountaintop, but she must swoop in and provide a proper meal for her hungry chicks.
HEAD UP!
Germany – NY PREMIERE
Animation, Gottfried Mentor, 2015, 3 min
Kids—even the wooly, four-legged kind—have something to teach their elders.
A HOLE
Mexico – US PREMIERE
Animation, Maribel Suarez, 2016, 5 min
A little girl longs for a playmate in the garden. Her efforts go unnoticed—until they finally take root.
I AM NOT A MOUSE
UK
Animation, Evgenia Golubeva, 2015, 2 min
Lucy's outgrown her nickname. Can she convince her mom to stop calling her "Mouse?"
IN A CAGE
France – NY PREMIERE
Animation, Loic Bruyere, 2016, 6 min
When bear and bird find the right rhythm, teamwork equals sweet freedom in this jazzy short.
KONIGIRI KUN: SHOPPING
Japan
Animation, Mari Miyazawa, 2015, 5 min
Konigiri Kun, a curious rice ball with a penchant for shopping, goes out to market and is tempted all around in this hilarious nod to overconsumption.
THE MOLE AND THE EARTHWORM
Germany
Animation, Johannes Schiehsl, 2015, 4 min
When it seems like everyone else has a friend, one lonely mole finds love in an unexpected place.
THE POCKET MAN
France/Switzerland/Georgia – WORLD PREMIERE
Animation, Ana Chubinidze, 2016, 7 min
Good things come in all sizes and packages. Especially the pocket man, whose kindness abounds.
THE SLED
Russia – NY PREMIERE
Animation, Olesya Shchukina, 2016, 5 min
A little squirrel makes a new discovery and quickly figures out how to use it for winter fun.
TIGER
Germany – NY PREMIERE
Animation, Kariem Saleh, 2016, 4 min
A little tiger, happy but hungry, devises clever means to fill his belly and satisfy his cravings.

Processing your request, please wait....