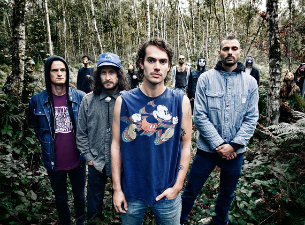 Follow us on Twitter @tractortavern
SOLD OUT!!! Nashville Psych Rockers- All Them Witches w/ Idle Bloom
Friday, May 05, 2017 9:00 PM PDT (8:00 PM Doors)
Tractor, Seattle, WA
21 years and over
Purchase Tickets
We're sorry, there are no tickets currently available through TicketWeb.
Additional Information
"Sleeping through the war — this is what we're doing. There are so many terrible things going on in the world and we're just staring at our phones, and we don't see it so we don't care." Having just come in from practicing in the desert, Charles Michael Parks, singer/bassist for All Them Witches, elaborates on the very heavy times in which we all live. Parks and his bandmates — Ben McLeod, Allan Van Cleave and Robby Staebler — are enjoying a brief respite from the endless tour that saw them visit Europe three times in 2016. We've been talking for nearly ten minutes about Einstein's Theory of Relativity, among other things, before we cut through the cosmic fog that surrounds their new album Sleeping Through The War.
"It's tough to get past all the cat videos."
From their earliest days, there has a been a current in All Them Witches' music that has come from outside the continuum of our collective perceptions. On 2013's Lightning at the Door they drew a bigger chalk circle in the center of the crossroads and conjured a haunting occult- blues. On 2015's New West Records debut Dying Surfer Meets His Maker they dove the depths of oceanic canyons and surfaced with a shining psychedelia. Sleeping Through The War is the next step in that progression.
"We write in every way possible," says Parks. "There's no limitations on it, no I'm going to come to it with this song and this is how it's going to go. It's more like stretching your arms out and seeing who can grab what and seeing what fits together from there.
"This is the most I've ever sang on a record, so my writing process was a little bit different than on the other ones. We weren't relying on long, drawn out jam sections we were putting more of a storyline into the songs.
"The songs are catchier, they're faster and there's more singing. Or talking. Or whatever I'm doing."
The result is evidence of the adventure, beauty, and excitement that lies on the other side of the galaxy. The fundamental laws that govern Sleeping Through The War are the same fundamentals that have made ATW a cult favorite — big fuzz, deep grooves, cosmic vision — but the journey through the wormhole has brought something else.


Processing your request, please wait....